Close Doors with Ease with the T-Pull: The Ideal Door Closer for Wheelchair Users
Firstly we now have the T-Pull Door Closer for wheelchair users in WHITE! We are the first in the UK to have it and have limited stocks. Click here to be one of the first people in the UK to own one!
Navigating through doors is a challenge wheelchair users face daily. Closing a door behind you after moving through it is awkward because of space limitations and having to turn and approach the door handle at an awkward angle to grab it and pull it closed.
Here's where the T-Pull door closer steps in as a remarkable solution, providing an easy, practical method to close doors without a hassle. The simple installation and ergonomic design of the T-Pull make the ordinary task of closing a door less of a hassle.
What is the T-Pull Door Closer?
The T-Pull door closer is a brilliantly designed handle that significantly eases the process of closing doors. Whether using a wheelchair, crutches, or a walker, the T-Pull is here to simplify your life. This door closer is easily affixed to your door with a sticky adhesive pad, no need for screws or drills. It's a straightforward solution to a problem faced by many.
Key Features
One of the notable features of the T-Pull is its ergonomic, swivelling handle design. This handle tucks neatly against the door when not in use, ensuring it's not in the way. Crafted from high-quality materials, the T-Pull is durable and can withstand a variety of environmental conditions, including extreme temperatures (it was designed in Canada!). Furthermore, it's versatile and can be installed on both interior and exterior doors, making it a universal solution.
Exclusive White T-Pull Door Closers Available Now
I've been asking Tony for a long while for white T-pulls (!) and we're thrilled to announce that we have exclusively stocked white T-Pull door closers, a sleek and modern variant that blends effortlessly with the most common UK door colour and door furniture. Being the only company in the UK to offer this exclusive colour, we continue our commitment to providing unique, practical solutions for our community. Most UK interior doors are white and although black does aid grasping for those with visual impairments, many people want disability products that blend in with their interior design. The white T-Pull door closer not only adds a touch of elegance but also maintains the functional benefits that the T-Pull is renowned for. Grab yours now and experience the seamless blend of style and functionality.
---
About the Inventor of the T-Pull Door Closer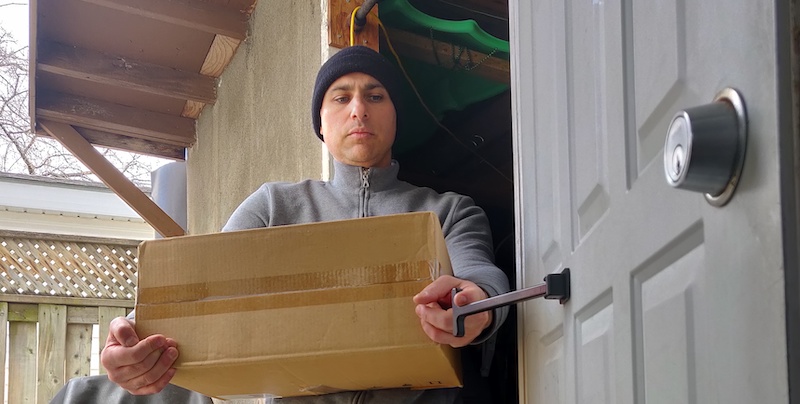 Tony Awad, a resolute disability entrepreneur from Ottawa, Canada, found his calling in aiding others with mobility difficulties post a life-altering car accident in 2006. While delving into robotics engineering, Tony invented the T-Pull door closer, melding accessibility with durability in a swivel handle design adaptable for both external and internal doors.
Background and Inspiration
Previously a serial entrepreneur leading high-tech start-ups, Tony transitioned into robotics engineering post-accident to engage his mind and contribute meaningful solutions. The spark for the T-Pull invention was ignited during a school project on self-driving wheelchairs. Tony observed the door-closing dilemma faced by wheelchair users, further fueled by a friend's experiences who often found himself caught between doors due to his wheelchair's delayed clearing of the door frame.
How the T-Pull Works
The T-Pull boasts a simple yet effective mechanism. Its swivel handle mounted on a base, adhered closer to the hinge side of the door, allows users to pull the T handle to close the door. The swivel action and handle length ease the effort required, even for heavy doors, making door closing a less daunting task.
Production and Distribution
From handcrafting a T-Pull for his friend to creating 500 units by hand, Tony's venture gradually expanded as the device gained traction among the disabled community. Although now the parts are created in small batches and sent to his Ottawa workshop for final assembly and shipping, Tony's hands-on approach remains, ensuring high-quality standards with a personal touch.
Benefits for Wheelchair Users
The T-Pull door closer is a boon for wheelchair users, significantly alleviating the struggle associated with closing doors, thus promoting a level of independence. Unlike homemade methods involving ropes or other makeshift solutions, the T-Pull offers a low-profile, aesthetically pleasing design that seamlessly blends with the door, making it a preferred choice.
Customer Testimonials for the Door Closer
From physiotherapists recommending it to their clients to individuals appreciating the instant solution it provides, the T-Pull has positively impacted many lives.
As a disabled person, I don't know where the T-Pull has been all my life! When I think about the number of times I've struggled with doors from a wheelchair. ???? Sometimes a service dog can't maneuver in an area or isn't around. The T-Pull is amazing. We installed it, with just the adhesive, on two doors. We used exterior doors but you could use them on interior doors too. Once we were sure we were happy with the position, we got help screwing them in permanently. Now that they're screwed in, they feel extra sturdy. We are so pleased with how easy it is close the doors behind us from our wheelchairs!

"As many wheelchair users will know, trying to reach to shut a door using the handle can be a bit of a nightmare… however this really works well and has completely solved the problem." – Fern

"Simplified a big struggle, great adaption… I'm very thankful that these aides exist, else I would be quite stuck." – Oliver E Shearer

"As a wheelchair user, closing a door is always a pain but not with this thing!" – clheisz

"The T-Pull Door Closer has been an absolute game-changer for me as a wheelchair user… It has made navigating through doorways in my home effortless and stress-free." – Jason Berger

"Life. Changing… We are so pleased with how easy it is close the doors behind us from our wheelchairs!" – Valarie

"This device has helped her maintain her dignity while keeping her independent as long as possible." – jcabs

"Makes Life Way Easier… This closer has been a life saver for her. Excellent design; strong; easy to install." – D. H Klassen
How to Install the T-Pull Door Closer
Installing the T-Pull is a breeze. It comes with an adhesive pad that you simply peel off and stick to the desired spot on your door. The package also includes screws for a permanent installation, giving you options based on your preference.
Impact and Future Plans
The feedback from T-Pull users has been overwhelmingly positive, underscoring the difference this simple device has made in their lives. Tony envisions evolving the T-Pull to be removable and reusable for broader applications like in public places or hotels. His journey demonstrates the ripple effect a thoughtful invention, driven by personal experience and a desire to help others, can create in the community.
The T-Pull door closer is a thoughtful, practical solution addressing a daily challenge faced by wheelchair users and others with mobility issues. Its design, durability, and ease of installation make it a worthy investment for your home or office. Recommend it for your workplace to improve accessibility!
Further Reading: Research on the difficulties of opening doors for wheelchair users
The research underscores the perennial problem wheelchair users face with doors. Individuals using wheelchairs grapple with accessibility hurdles each day, finding it challenging to open doors, and more so to hold them open while passing through. This problem is exacerbated with heavy doors, posing a notable difficulty for people with disabilities and older people with limited upper body strength or fine motor skills. These doors may shut too swiftly, making it hard for some individuals to pass through effortlessly. A silver lining is that these prevalent issues can often be mitigated by adjusting door closers.
Studies have unveiled innovative methods of assessing a wheelchair user's ability to access swinging doors. Further, there are guides available detailing how to tweak doors for better accessibility, encompassing adjustments in closing or swing speed and distance, and ensuring the door isn't too hefty to open. Beyond the immediate challenge of door accessibility, research also delves into addressing associated issues like shoulder pain, gait dysfunction, and mobility disability in wheelchair users. Through such insights and solutions, the path towards better accessibility and eased mobility for wheelchair users is continually being paved.