Tony Awad is a disability entrepreneur from Ottawa, Canada. Following a car accident in 2006, he discovered the difficulties wheelchair users and people with mobility issues had closing doors. So, while studying robotics engineering, he invented the T-Pull door closer, an accessible, durable, swivel handle that can be used to close external and internal doors.
Our writer, Emma Purcell, interviews Tony Awad about his disability, professional background and invention of the T-Pull door closer.
Buy the T-Pull door closer on the Disability Horizons Shop.
Can you tell us about your accident and what level of impairment do you have?
I had a C5-C6 nerve root avulsion from a motor vehicle accident in 2006. I don't remember anything from that day except waking up in the hospital screaming in pain.
My impairment is dexterity, strength and pain in my right hand and arm, which comes with a host of issues. On the outside, I look like a fully able-bodied person.
I've learnt to mask my pain when going out into the world. I try not to put myself in situations where I have to use my right arm, which is difficult when someone asks for help to lift, carry or move something.
I tend to keep to my small social circle. I don't feel like explaining to people why I can't do certain things. This has definitely caused me social anxiety, as does getting a job, where people aren't understanding or accommodating to my situation.
What is your background and what got you into studying robotics engineering?
Before my accident, I was a serial entrepreneur with a couple high-tech start-ups. For example, before Wi-Fi was an everyday word, my team had designed, setup and maintained the first wireless airport in North America. Hotels and others soon followed. Now it's almost free and an expected service.
After the accident, I wanted to keep my mind busy and distracted while learning something to make a difference. So, I enrolled into a robotics program and have not looked back since.
What inspired you to create the T-Pull and can you tell us about it and how it works?
The T-Pull was invented out of necessity. While completing my final school project (self-driving wheelchair), I noticed a major problem with doors and people using wheelchairs.
I have a friend who uses a wheelchair and often gets stuck in between his door because of an edge at the door frame and he can't get over it in time before the door slams into his wheelchair.
Closing a door is one barrier that I set out to solve – non-technical to reduce cost, universally designed to accommodate as many people as possible and easy to install.
The T-Pull is a handle that swivels on a base. It adheres to the middle of a door and allows the user to close the door by pulling the T handle. The swivelling action and handle length allows less effort to close even heavy doors.
How do you make, sell and distribute T-pulls and do you have assistants/employees/factory?
It all started by making one for my friend then I made more because someone saw it and it soon became popular among other people that are disabled. So, I ended up making about 500 units by hand. This validated the product as a useful device, so I had it patented.
To make a T-Pull, I start by making a mould and mixing plastic into the mould, then cutting and shaping the handle and then assemble it. It is a long process!
Now, I get the parts made in small batches and shipped to my workshop in Ottawa, where I finish the handles, assemble the parts, package and ship out.
Before Covid, I had assistants help out with assembling but since 2020, it has been a solo adventure. This also keeps quality at a high standard as my name is on each one!
What has been the feedback from customers who purchased your product?
I have been shocked by the positive responses from my customers. I had started selling on Amazon US and that's where most of my reviews are. I really appreciate the kind words. It keeps me going knowing the product I invented is making a difference – exactly what I set out to do.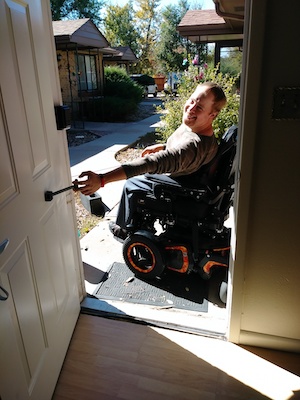 People have said how extremely simple and easy it is to install, that it sticks really well and how it makes such a difference in their daily lives. Some people have even bought several T-Pulls for every room in their house and to give to friends.
It has also been mentioned that occupational therapists should be recommending this product to their patients.
Have you got plans to expand your product range in the future?
I do have plans to make the T-Pull removable and reusable so they can be used in public places or hotels. I've been testing different adhesives and may have found something that works. I may offer it as an option in the future.
I'd also like to connect with other single product manufacturers to combine our efforts for future ideas too.
What advice would you give to other disabled entrepreneurs creating accessible products?
Don't do it for the money. It's not easy to make a profit, let alone break even. I could not have done this alone. There were many people involved to assist me along the way. Don't be afraid to ask for help. I am available to anyone who has questions!
Follow T-Pull Door Closer on Facebook, Twitter, Instagram and TikTok to see product videos and customer reviews.
Head to the Disability Horizons Shop to purchase yourself a T-Pull door closer.
Interview by Emma Purcell 
More on Disability Horizons…