Best Wheelchair Gloves for you, The Ultimate Guide
Wheelchair gloves are an important accessory for wheelchair users. They provide extra grip, protection from the elements, and support for hands during daily mobility. But with so many options, how do you choose the right gloves? This comprehensive guide covers everything you need to know.
What Are Wheelchair Gloves?
Wheelchair gloves are specially designed for gripping and pushing wheelchair hand rims. They protect against blisters and calluses while enhancing control.
Key features:
Made of durable materials like leather or neoprene
Improve traction on hand rims
Absorb shock and vibration
Provide wrist support and stabilisation
Keep hands warm and dry
Why You Shouldn't Use Regular Gloves
Specialised wheelchair gloves differ from normal gloves in a few key ways:
Grip – Normal gloves lack the grip needed for pushing wheels. Wheelchair gloves have textured, rubberized palms.
Finger coverage – Wheelchair gloves are often fingerless for flexibility.
Wrist support – Wheelchair gloves stabilize wrists while pushing.
Padding – Extra cushioning protects wheelchair users' hands.
Breathability – Wheelchair gloves feature ventilated materials.
So while cycling or work gloves provide some protection, wheelchair gloves are optimized for grip, breathability and impact absorption.
Benefits of Using Wheelchair Gloves
Here are some of the key benefits wheelchair gloves provide:
Protect against blisters – Friction with hand rims can cause irritations. Gloves protect the skin.
Improve grip – Wheelchair-specific materials enhance traction on the wheels.
Absorb shock – Padding cushions palms from repetitive impact.
Provide warmth – Insulated materials retain heat in cold weather.
Moisture wicking – Sweat-wicking fabrics keep hands dry.
Enhance control – Better grip gives more control steering the wheelchair.
Prevent pressure sores – Reduced friction helps avoid calluses and sores.
Top Wheelchair Glove Manufacturers
RehaDesign
Our top choice for quality and selection is RehaDesign. This innovative company focuses on stylish, functional wheelchair accessories.
Their gloves come in full-finger, half-finger and open-palm styles. Materials include leather, neoprene and gel padding. They offer excellent grip, protection and support for wheelchair users.
We have previously supplied other manufacturers' gloves but now only recommend RehaDesign gloves.
Video demonstration of Wheelchair Gloves
Why we believe Rehadesign Wheelchair Gloves are the best
We recommend RehaDesign gloves because many wheelchair users love them and our customers suggested we stock their products.
RehaDesign makes stylish and functional wheelchair accessories. Their gloves are practical, durable and look great. Their gloves contain an inner lining that stops hands from getting stained black from leather dye – a common complaint for many other gloves (even for the market leader!).
We know that a head occupational therapist at an NHS spinal unit uses RehaDesign gloves with patients. She says the gloves provide excellent grip and durability and only buys RehaDesign gloves.
Seth McBride (New Mobility Magazine) tested RehaDesign's Ultra-Grrrip wheelchair gloves. He pushed his chair 18 miles through New York City streets. The rubber grips held up even in rainy weather. His hands felt less sore compared to other gloves.
We want to make life easier for wheelchair users. RehaDesign shares this goal. They create products to improve mobility and independence. Their quality gloves are a top choice for protection and performance.
Why Choose RehaDesign Over Other Brands: A Closer Look
We've received valuable insights from customers who know the wheelchair glove market well, including other popular UK brands. While other brands have their merits, we believe RehaDesign gloves offer superior benefits. Here's why:
Quality of Material
Some of the other wheelchair glove manufacturers use both real and artificial leather, specifically "Amara leather," a synthetic leather made in China a faux leather made up of polyamide (Nylon) and polyurethane (PU) material. In contrast, RehaDesign uses only real leather for their gloves, ensuring higher quality and durability.
Why is real leather better?
Real leather ages gracefully, acquiring a unique surface sheen known as patina. In contrast, synthetic leather doesn't have the same longevity as genuine leather. Unlike real leather, artificial material lacks breathability and is prone to tearing and cracking as it ages.
Strength Matters
While neoprene is another common material for many other gloves, it doesn't match the strength and durability of leather. RehaDesign gloves are made of real leather, ensuring they stand the test of time.
Dye Transfer Issue
Other brands leather gloves have been known to cause dye transfer, leaving users with blackened hands. Wheelchair users hands get hot and moist because of the extra amount of use and pressure they are applying to the gloves compared to non-disabled glove users. RehaDesign tackled this issue a decade ago by introducing an internal lining inside the gloves, preventing direct contact with the leather, and effectively stopping any dye transfer complaints.
Easy Maintenance
Other brands advise against cleaning their gloves with water, recommending specialised leather cleaning preservatives or dry cleaning. RehaDesign gloves can be easily washed with cool water and mild soap, then air-dried, offering a more user-friendly maintenance routine.
Superior Grip
While other leading brands of gloves may lack grip fabric on the palm side, RehaDesign gloves feature an advanced grip fabric. This enhances the grip and push experience, making daily mobility much more comfortable.
Why Grip Matters
One of the main challenges for wheelchair users is maintaining a solid grip on the push rims. RehaDesign gloves tackle this issue head-on with their specialised grip fabric, a feature you won't find on other gloves.
In summary, RehaDesign gloves offer real leather, an internal lining to prevent dye transfer, easy maintenance, and advanced grip fabric. These features make them a standout choice for wheelchair users. 
Types of Wheelchair Gloves
There are a few main design options to consider:
Full Finger Gloves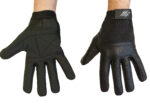 Covering the whole hand, full-finger gloves provide maximum protection and warmth. Some have reinforced index fingers for durability. Full palm grip pads enhance traction.
Half Finger Gloves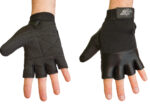 Leaving fingertips exposed, half-finger gloves retain manoeuvrability. Silicone or rubberised palms improve grip while keeping hands cool.
Fingerless/Open Palm Gloves
No individual finger holes give fingers full freedom of movement. Wide openings and adjustable straps facilitate putting them on. Textured rubber palms protect and cushion hands. These are mu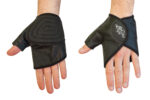 ch easier to put on for people with contractures or hand impairments.
Gel Padded Gloves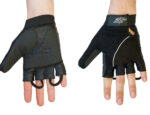 Gel inserts in the palm help absorb impact from pushing. The additional cushioning protects pressure points and reduces hand fatigue.
Features to Look For
Adjustable straps – provide a custom and secure fit
Loops – Make gloves easy to take off
Terrycloth – Absorbs sweat and moisture
Reflective details – Enhance visibility
Inner lining – Retains warmth in cold weather
Gloves for Quadradplegics/Tetraplegics
If you have a spinal injury and are a "quad" or "tetra" you will know that gloves can be very difficult to put on due to hand impairments. RehaDesign offers specialised gloves like Gator Gloves and Strap N Roll, designed for Quadriplegics/Tetraplegics and those with hand mobility issues—a point often overlooked but crucial for those who need it.
Choosing the Right Size
Like regular gloves, wheelchair gloves come in a range of sizes from XS to XXL. Measure the circumference of your dominant hand's palm below the fingers. Compare it to sizing charts from the manufacturer. All our glove listings have sizing charts to allow you to choose the best fit for you.
Trying them on if you can before buying ensures a proper fit, but that is not easy because wheelchair gloves are a specialist item and many mobility shops do not stock them! When you buy from us you can exchange them and will not have to pay for us to send you a larger or smaller pair. The gloves should be snug but not restrictive.
Genuine Leather gloves stretch as they wear and become much softer after a few days use, so bear this in mind when you first try them on. They may feel a little tight but they will stretch and soften.
Our Top Wheelchair Glove Recommendations
Here are our picks for the types of different gloves currently available:
Maintaining Your Wheelchair Gloves
Once you've found your ideal pair of gloves, proper care can extend their lifespan. Make sure to read the care instructions that come with your gloves. Some may be machine washable, while others might require hand washing.
Regular maintenance not only keeps your gloves clean but also ensures they provide optimum performance. Follow these tips to prolong the life of your gloves:
Allow to fully air dry after use before storing
Use a leather conditioner on leather gloves
Hand wash using mild soap and rinse well
Check for rips, tears or worn grip pads regularly
Replace gloves once the grip starts deteriorating
Finding the right wheelchair gloves involves considering your needs in terms of fit, grip, padding, and features. With proper care, they will provide hand protection and enhanced steering control during daily wheelchair use.
The Importance of Hand Care for Wheelchair Users
Taking care of your hands is crucial when you're a wheelchair user. Your hands are essentially taking the place of your feet in moving you forward. Feet develop thick tough soles and you don't want some like that for your hands!  Your hands need to be in top condition for you to continue to use them to move around comfortably. That's why choosing the right gloves is just one part of a broader hand-care routine, which should also include regular moisturising and perhaps even hand exercises to improve strength and flexibility.
Here are some RehaDesign wheelchair glove recommendations for different hand conditions:
Best for Quadriplegia
The RehaDesign Strap N Roll gloves are ideal for quadriplegics. The wide hand openings and adjustable straps allow easy insertion. The textured rubber grip helps maintain control despite limited hand mobility.
Best for Arthritis
The RehaDesign Gel Palm Wheelchair Gloves provide ample padding for arthritis sufferers. The gel inserts cushion sensitive joints while the terry cloth absorbs moisture from swollen hands.
Best for Spasms
The RehaDesign Ultra-Grrrip Half Finger gloves help manage spasms. The non-slip rubberized palm prevents losing grip during involuntary motions. The open fingers don't restrict movement.
Best for Tremors
The RehaDesign Gator Wheelchair Gloves reduce tremors. The stable hook-and-loop closure secures the gloves while the padded leather absorbs excess vibrations.
RehaDesign has innovative options to accommodate many conditions. Their gloves provide grip, protection and flexibility for specific needs. Consulting an occupational therapist or asking advice at your next wheelchair services appointment can help you match the right glove design to your specific needs.
Best For High Activity Users
Choose According to Your Activity Level
While Gel-Palm gloves offer comfort, they may not be the best choice for highly active users or those participating in sports. Choose your gloves based on your activity level for the best experience. the best for sports is Ultra-Grrrip Half-Finger. They are designed for active wheelchair use. such as playing basketball, tennis or pushing around in the city.
FAQ for Wheelchair Gloves
How do you measure for wheelchair gloves?
Measure the circumference of your palm below the fingers. Compare it to size charts from the manufacturer to find your glove size. Trying them on ensures a proper fit, or choose a company like Disability Horizons Shop, that has an easy and flexible returns service.
How do you take care of wheelchair gloves?
Allow gloves to fully air dry after use. Use a leather conditioner on leather gloves. Hand wash with mild soap and rinse well. Check for damage regularly. Replace when the grip starts deteriorating.
What features should I look for in wheelchair gloves?
Key features include adjustable straps, easy removal loops, moisture-wicking fabrics, reflective details, insulation, and specialized gripping materials on palms.
What gloves are best for wheelchair users?
RehaDesign offers a wide range of high-quality wheelchair gloves, catering to different needs and preferences. Their offerings include Full Finger, Half Finger, Gel Palm, and specialized gloves for various uses.
What are the different types of wheelchair gloves?
Wheelchair gloves come in various types, including Full Finger, Half Finger, and Gel Palm, and specialized gloves like Strap N Roll, Gator, Flexi-Fit, and Children's Wheelchair Gloves. Each type serves different purposes and preferences.
Can you use cycling gloves for wheelchair use?
Cycling gloves may be used for wheelchair use but may not provide the specific features needed for wheelchair users, such as special gripping material or gel inserts for cushioning. Wheelchair-specific gloves are designed to cater to the unique needs of wheelchair users.
Why are some wheelchair gloves fingerless?
Fingerless or half-finger wheelchair gloves provide a balance between protection and sensitivity. They offer grip and cushioning while allowing the fingers to feel and manipulate objects, enhancing control and dexterity.
Read More:
Gripping Aids _ Boost Your Grip Game with These Gripping Gadgets
Find Pre-owned Disability Products at Low Prices on our new website