Cristel Guzman is the designer of Optivus – the first streetwear-inspired and adapted clothing range entirely dedicated to people with physical disabilities. She was inspired to create the clothes by her disabled son, Liam, after finding it extremely difficult to dress him in standard clothing.
Our writer, Emma Purcell, interviewed Cristal about how she launched Optivus, the highs and lows of running her business and being a mother to her disabled son Liam.
Tell us about yourself and your background?
I am a licenced nurse originally from the Philippines who relocated to the United Kingdom in 2008. I used to dream about being able to help others and be nice when I was a kid. As a consequence, after graduating from high school, I chose to pursue a career in nursing.
The path to becoming a nurse in the Philippines is difficult because our educational system is comprehensive. As a result, we are required to study all areas of nursing, such as mental nursing, surgical nursing, community nursing, public health nursing, maternity nursing and paediatric nursing.
My ability to work in other countries has significantly improved as a result of passing the nursing professional association exam in the Philippines. I went to the UK at the age of 23, exactly two years after graduating from nursing school. Before becoming pregnant, I worked for the NHS for four years.
Life's journey is usually unexpected. I was 27 years old when I gave birth to a wonderful baby boy. In my dream, he was engaging in sports like football, tennis or swimming. I agreed to put in a lot of effort so that he may have a better life and take advantage of any opportunities that come his way.
My parenting path was altered by a life experience. When Liam was 10 months old, he had a metabolic stroke. Unfortunately, he was not detected in time, resulting in brain damage and needing complex care. He was diagnosed with glutaric aciduria type 1 (GA1).
At the time Liam was born, GA1 was not yet part of the newborn screening protocol, thus doctors were unaware of his illness. This caused a metabolic stroke, which may have been averted with proper food and treatment.
Infants born after 2013 now have a better chance of living normal and competent lives, according to the new newborn screening, which was formally recognised by the NHS and included in the screening in 2013-2014.
Most people are curious about what happened to Liam since his condition is becoming more visible as he grows. This puts the responsibility for telling these people about his disability squarely on my shoulders. Because we were given a disabled child, the great majority of people feel we were chosen and special. To a mother of a disabled kid, this sentence is ambiguous.
They have no idea how much I've learnt about life as a consequence of raising a special-needs kid. Liam implanted in me concepts that are at once inexplicable, overpowering and wonderful.
He taught me a great deal. I sobbed a river and worried over every hospital admission, appointment and surgery. However, in each of these situations, I've had to be strong and summon all of my strength since someone else is relying on me.
Liam is a remarkable boy for his age. Being a mother to a disabled kid is not an easy path, but it is one of the most rewarding experiences imaginable.
Can you tell us more about your son Liam?
Being diagnosed with GA1 resulted in Liam living with tetraplegia, dystonia and global developmental disorder, as well as being a full-time wheelchair user.
Liam, like most other children his age, is fascinated with trains and buses. He has a passion for footwear, and one of his favourite things to do each morning is to choose the outfit he will wear.
Even though he has severe dystonia, which causes him great agony, he has the strength to smile despite his pain. Liam's facial expression is a message that communicates a unique blend of distress and comfort, reminding me that we are capable of overcoming this challenge.
Most of the time, we are inundated with random acts of generosity on the street, demonstrating that mankind cares. Liam will usually smile at complete strangers or individuals we pass on the street.
Despite being nonverbal, he communicates well via his eyes, facial emotions and crying. He is now learning to one day be able to utilise eye gazing as a way of communication, as well as to one day be able to manoeuvre his own wheelchair independently.
He attends a special needs school, which allows me time for me to have a break. Liam's care might be exhausting at times since he requires medicine that must be administered regularly and every three hours. It is to be anticipated that it will get more difficult as he ages.
How did you first come up with the idea of your adaptive clothing range and how did you start designing/making the clothes?
I was concerned about the chore of clothing Liam since it's a daily marathon. I was concerned not just about every passing day, but also about the individuals who will be in charge of his care as he gets older.
As a consequence, I started producing and developing clothing that is simple to put on and provides a high level of comfort. Because of the complexity of the design, the primary design and functioning were based on the views of individuals who use wheelchairs.
The objective of the clothing is not merely to provide comfort. Rather, it is to create clothing that promotes autonomy. Because it is a brand that we own and have committed solely to solving the needs of the minority group, the brand represents the community. It is a statement and brand that promotes limitless potential and acts as a self-motivating statement by showing that even with a disability, progress is achievable.
Our goal is to satisfy a market that is underserved in terms of pricing, functionality and fashion. Optivus designs strive to empower independence by revolutionising the designs and materials used in simple dressing.
For example, velcro and magnets are used instead of buttons in several of our products. One of the things that we are most pleased with at Optivus is the design of our jeans – the idea behind them is that they should be simple to put on, easy to access while changing and environmentally friendly when being worn while travelling.
We improve the functionality of the jeans so that they may be placed onto a chair, sat on and then zipped up. This allows the wearer to reduce exertion while putting on the jeans, in particular the need to sit on the floor.
Head to the Disability Horizons Shop to buy yourself a pair of Optivus adaptive wheelchair jeans.
How do you think your adaptive clothing range differs from other clothing brands?
Streetwear adaptable clothing is Optivus' concept. This signifies that the design is trendy, stylish and unique. Our design aims to promote self-acceptance, self-confidence and a sense of flexibility in the face of anything life may throw at us.
What is your best-selling product at the moment?
We have two products that are consistently at the top of the sales charts – our jeans and our wheelchair bag.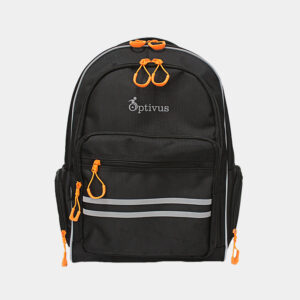 Did you have any challenges along the way in starting your business?
The lack of financial resources is the most significant obstacle we have as a start-up business – as a result, we are unable to effectively promote our products and let more people know about the services we provide.
Furthermore, to minimise the cost of a product, we must acquire it in bulk. This will enable us to lower the price we charge our consumers. However, owing to budgetary limits, we can only acquire a limited amount, resulting in a substantially higher price per unit.
This is why we need the help of the community as well as the support of the customers. As a result of their assistance and purchases, we will be able to provide adapted apparel options and respond to our client's desires and requirements. 
The second aspect is the manufacturers. Because each design is unique and detailed, it is difficult to locate a manufacturer ready to produce the design in smaller quantities.
At present, how do you make, sell and distribute your products?
Our website and our wholesalers together account for the vast bulk of our revenue. It is fulfilled from the storage by myself; the majority of the time.
Have you got any new products lined up for the future?
Yes, we have been hard at work developing new product lines of trousers as well as more artistically designed T-shirts.
What advice would give to other entrepreneurs? 
Do not live in "what ifs" – until then you will never know what you are capable of.
Find out more about Optivus by following on Facebook and Instagram.
Check out our full range of Optivus products on the Disability Horizons Shop.
Interview by Emma Purcell 
More on Disability Horizons…