Holly Yendell is a fashion designer and creator of accessible clothing brand L.able. Based in Alton, Hampshire, she was inspired to start the company by her father Tom Yendell, who is a disabled artist.
Her debut product is the unisex jersey cape, which is specially designed to bring style and comfort to wheelchair users. Holly tells us more about her company, how she became a fashion designer and future ideas for accessible clothing.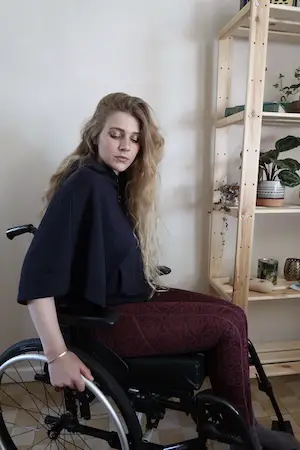 Please tell Disability Horizons readers a bit about you and your background?
I initially wanted to study photography, but after completing a foundation course at Alton College, I went on to choose fashion. I decided I'd rather design the clothes than take photos of them, as I had strong sewing, drawing and illustration skills.
After being brought up in an artistic household, I always wanted to study the arts and when I read about a fashion course at Kingston University, I knew that is what I wanted to do.
In 2015 I started studying fashion and between then and graduating I worked in London, New York and San Francisco, interning for brands such as GAP and Hobbs.
L.able then started as a conversation with my father – Tom Yendell – who is a mouth and foot painter, who gave me the idea to focus my final collection at university on clothing for people with disabilities.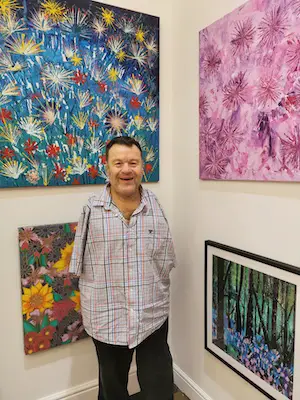 He was born in 1962 without arms due to the drug Thalidomide and joined the mouth and foot painting artists in 1996.
Instead, I decided to put my time into it after graduating so I could focus on it solely because at university, you tend to have many small projects going on at once.
Together with my dad, we started L.able, an accessible fashion brand in November 2019.
What made you decide to start your own business and become your own boss?
I researched accessible brands, accessibility in the fashion industry and started to carry out focus groups, leading me to see the lack of fashionable accessible clothing brands and so I decided to start my own.
I set up the company because I wanted people of all abilities to feel more independent and to feel that they are catered for and represented in the fashion industry.
Please tell us about your business, L.able, and the products you sell?
During lockdown, I worked hard to get at least one product out. The first garment is a jersey cape, which converts from a sleeveless shape into a more fitted hoodie with the help of two snap fastenings at the sides. It's cropped to suit the sitting position, and is comfortable and stretchy, like the average hoodie.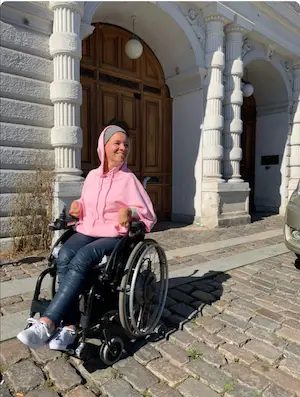 We are still planning on releasing some more pieces, but Covid has slowed us down, so hopefully more will be available online soon.
At the moment, in addition to the jersey, our initial collection includes accessible suits and workwear that is much easier to get on and is cropped for the seated position, which I'm hoping to add online soon. I would also like to get some matching tracksuit trousers to go with the jersey too in the near future.
What challenges did you face when you started your business?
When we first started, we had the same challenges as other start-up businesses, so I did a lot of research into how to run a company, how to find manufacturers etc.
But then the pandemic happened. The main challenges I faced happened because I was trying to do everything myself – so I reached out for help as much as possible – and discovered so many online resources that helped massively.
Why did you join forces with Disability Horizons and start selling the jersey cape on our shop?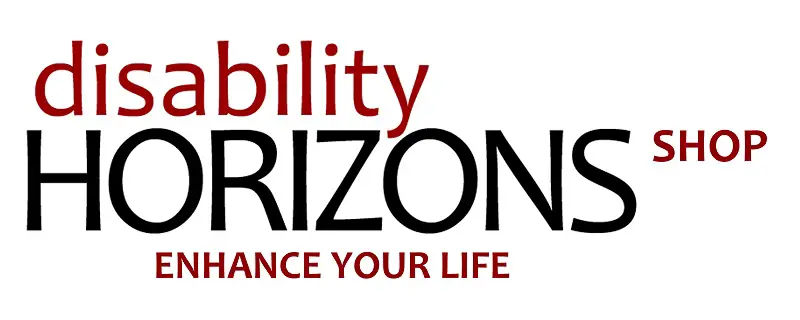 I wanted to start selling our garments with other designers who solely design accessible clothing and it's great to be alongside others with the same vision.
I discovered Disability Horizons in my initial research into accessible brands. When they reached out it was a no brainer to collaborate.
Do you have any big plans moving forward at your company?
I'm currently designing for the brand alongside another job to help fund the company. My next step is to offer a tailoring service, or custom clothing, as each body is unique and so are the clothing needs.
I'd also love to collaborate with another accessible brand if possible, as it would be fun to have some fresh ideas and a new take on post pandemic fashion.
What advice do you have for other people who want to start their own disability related businesses?
Learn as much as you can about your customer and continue to research them. Don't be hesitant to reach out for advice when you can. Find people on LinkedIn who are in the same industry and follow similar businesses.
There are also unlimited resources online, for example lists of manufacturers, and free classes for social media and branding. Facebook has plenty of resources for businesses too.
You can find out more about L.able by visiting its Facebook, Twitter and Instagram pages.
Interview by Emma Purcell 
More on Disability Horizons…