The Glideboard is an ultra-lightweight transfer board with a unique design to increase stability, unlike any other on the market. But how is the Glideboard better than other transfer boards for disabled people?
Here at Disability Horizons, we give you a detailed understanding of what a transfer board is, the different qualities between the Glideboard and other transfer boards, meet the team that invented the Glideboard, share instructions on how to use a Glideboard, and tell you how you can buy a Glideboard on the Disability Horizons Shop.
What is a transfer board?
A transfer board (also called a slide board) is a mobility aid that assists disabled people in transferring from one sitting position to another. Transfer boards are usually made of wood or plastic and are long flat devices that can slide under the person's bottom in order for them to slide across to another location or position.
Transfer boards can be used for a variety of transfers – wheelchair to car, wheelchair to bed, wheelchair to toilet or chair to wheelchair.
Depending on the severity of your physical impairment, transfer boards can be used independently or with the support of a carer.
The types of disabilities that would benefit from a transfer board are arthritis, lower limb paralysis, leg injury, back injury, osteoporosis and people unable to move their lower body.
Glideboard vs other transfer boards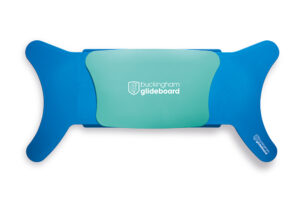 The Glideboard is a new and innovative transfer board designed in 2019 and launched in 2021. Its most unique feature is the sliding seat panel that glides, making transferring from anything easier and safer, reducing effort by more than 30% and minimising friction.
The Glideboard is a flexible transfer board made of strong, durable plastic and the seat can be removed, making it easier to clean.
It also has a unique shape with stabilising arms, contoured edges to ease onto and a special blend of polymers for strength, up to 20st/127kgs. The device itself only weighs 1.44kg, making it the lightest transfer board available.
It has a wide base at the ends and narrow in the middle so that it doesn't catch on wheelchair armrests etc. It has a chamfered profile so it can be easily slid in and removed from underneath the person. It is also versatile and that's why it's asymmetrical so you can cope with different situations and have it easily placed on different chairs or surfaces.
In addition, on car transfers, often there is a difference in height between the car seat and the wheelchair. Thankfully, the Glideboard with its sliding seat, makes moving downhill and uphill simple.
The Glideboard is available in a range of colour combinations to ensure it is stylish and non-medical – the seat comes in blue, green and white, and the board in white and blue.
The fact the Glideboard is stylish, modern and extremely lightweight means it can be used in a variety of places and stored easily. Whether it's at home, on day trips and on holidays where you may need to transfer onto public transport seats or public toilets or even used as a patient transfer board when attending hospital appointments.
Other styles of transfer boards, such as the well-known types Banana Transfer Board and Beasy Transfer Board, are said to be either too short or long, too heavy (between 2kg and 3kg), very medical looking, difficult to put under or remove from underneath someone's body, requires more strength to move the person and/or more expensive.
Meet the creator behind the Glideboard
The Glideboard was developed by Buckingham Healthcare, which has been making healthcare products for 20 years. In 2019, Chris Buckingham, who founded the company, applied for and won an open competition and was awarded an Innovate UK Smart Grant to research current transfer boards and the various designs available.
The purpose of the award was to design a new inclusive and highly functional transfer board that is a vast improvement on what is currently out there.
To assist in this project, Chris enlisted the services of the highly acclaimed Orthopaedic Research Institute at Bournemouth University and its specialists in the scientific movement of people.
It was the first time she had ever been able to evaluate all the products in the marketplace and design a new shape from scratch. The grant was time-restricted and the funds enabled them to work through the research and design at a fast and focused pace.
In addition, she was fortunate to bring OTs and specialists in moving and handling from Salisbury Hospital Spinal Unit on board, along with Community Therapists from Wimborne and Portsmouth Social Services.
Now, after years of thinking about it and working with so many experts, the new Buckingham Glideboard was produced, all researched, designed and manufactured in the UK.
We launched it back in September 2021 at Naidex, exclusively on the Disability Horizons Shop.
How to use the Glideboard transfer board
The Glideboard is an ideal transfer board for wheelchair users either independently or with the assistance of a carer.
To use the Glideboard, follow these 6 simple steps:
Pick up your Glideboard and insert one end under your thigh making sure both wings of the board are in contact with your wheelchair. The other end should be stable and positioned where you want to glide towards.
As you slide yourself onto the Glideboard make sure that your hand holds the seat in place by spreading your palm across both the board and the edge of the sliding seat. This way you can be sure that your body is directly on top of the seat before you glide from your wheelchair.
With one hand on the surface you're heading towards and the other on your chair for greater stability, you can simply glide across
Once the glideboard has done its job, remove it from under your thigh but remember to keep it nearby ready to be used again.
The wings at each end must be best placed to fit around obstructions like wheels and armrests, ensuring maximum stability when transferring.
The seat clips off and on easily and is simple to clean. Just make sure when clipping it back on that the curves on the seat and the end of the board line up.
These instructions are also available to view in this video demonstration:
Buy a Glideboard on the Disability Horizons Shop
The Glideboard was exclusively launched on the Disability Horizons Shop back in September 2021 for £180 (inc VAT). In June 2022, we reduced the price to £154.80 (inc VAT).
With VAT exemption, if you have a qualifying condition, you can get the Glideboard for just £129.00 (ex VAT).
Furthermore, if you are not happy with your brand new Glideboard for any reason, you can return it to us for free within 14 days in exchange for a refund less the initial postage cost. We reserve the right to select any courier to collect your return. The item must be in its original condition upon return. If the item has been damaged or is missing parts, we reserve the right to reject your return. (UK customers only!).
If you are looking for a transfer board for a disabled person or wheelchair user that is ultra-lightweight, versatile, simple and safe to glide on and affordable, then the Glideboard is for you!
Buy a Glideboard on the Disability Horizons Shop.
By Disability Horizons 
More on Disability Horizons…