Finding accessible and supportive footwear can be challenging if you have a physical disability. Many people may have poor foot posture, swollen feet or bad co-ordination to be able to put on and wear standard shoes.
Emma, our editor and writer at Disability Horizons, tries out a pair of Friendly Shoes, a unique style of footwear specifically designed for disabled people.
There is a stereotype that most women own hundreds of pairs of shoes. However, I could count the number of shoes I have on one hand.
Due to my cerebral palsy, I have limitations on what kind of footwear can fit my petite, twisted and sometimes swollen feet.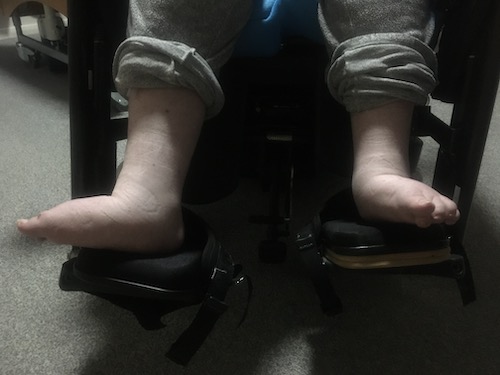 I first discovered Friendly Shoes when attending Naidex in 2021 and was amazed by its unique, lightweight and accessible design, which is also smart and stylish.
What are Friendly Shoes?
Friendly Shoes was created to meet the needs of disabled people up and down the country.
Invented by Joseph Difrancisco, an occupational therapist in the USA, he saw more and more disabled people in desperate need of shoes that simply didn't exist.
Following his creation, Joseph received many enquiries from customers in the UK and he soon found a UK company – The Wellbeing Company – to make Friendly Shoes more easily available to disabled people in Britain.
The market needed adaptive shoes that were high quality, functional, comfortable, and versatile. After listening to a wide range of feedback, and perfecting its ideas, Friendly Shoes was born.
The Friendly Shoes collection of adaptive shoes features a large opening at the back, wide and generous toe space, memory foam insoles and an amazing lightweight design (some shoes are as light as 300g in the largest size).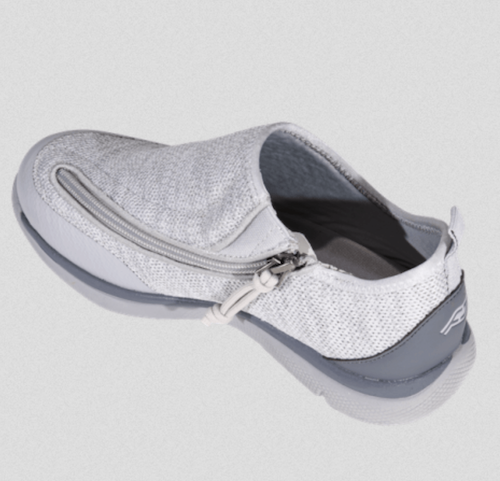 All these features make Friendly Shoes great for a wide range of conditions including diabetes, Parkinson's, multiple sclerosis, cerebral palsy and for people with orthoses and braces.
Here at Disability Horizons, we sell 14 different pairs of Friendly Shoes in men's, women's and unisex styles.
The benefits of Friendly Shoes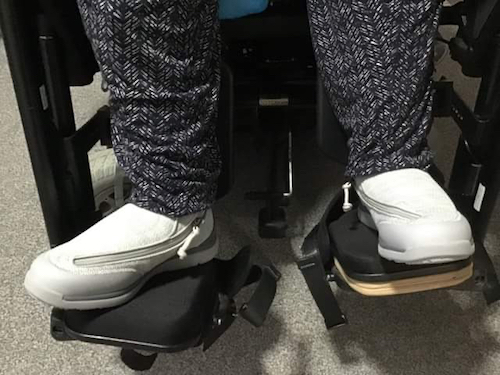 The pair of Friendly Shoes I've got are the Friendly Force light grey womens disability footwear. They look so simple yet sophisticated.
The large opening allows me to slip my feet into them with ease and zip up the sides in a matter of seconds. The interior is very snug with plenty of room for my toes.
The shoes do include a padded memory foam insole, but I preferred to remove it to give me more smooth and breathable comfort. Plus, you're welcome to replace it with your own orthotic insole or braces.
With other footwear, such as trainers and pumps, I find them more difficult because I need to undo the laces completely, pull the tongue out as far as possible and push my heel in vigorously to get my feet in securely.
Choosing the right shoe size
When deciding which shoe size is a best fit for your feet, I suggest you use our measurement instructions and shoe size guide.
To find the right shoe size, you first need to know your foot length and forefoot circumference:
Foot trace: Place a piece of paper on the floor and put your foot on it. Use a pen or pencil to trace the outline.
Measure: Get a ruler or tape measure and find the full length of the outline in cm (from end of longest toe to bottom of foot).
Forefoot circumference: Otherwise known as the ball of the foot, this is the widest part of your foot. Use a tape measure to measure it in cm.
Once you have your measurements, you can then use the below size guide to see which shoe size matches your measurements.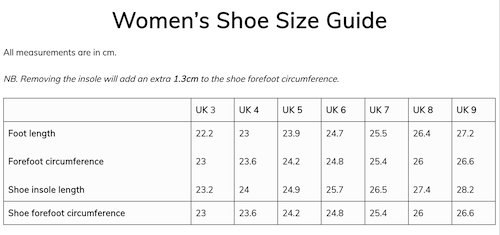 When I did mine, I actually chose a size bigger than my measurements to make sure I had extra comfort. As I'm a full-time wheelchair user, I have no need to walk or stand, so having bigger shoes makes no difference to me.
Please note: We are unable to provide exchanges on the friendly shoes range. Shoes that do not fit must be returned at the buyer's expense. Please ensure to check the sizing chart above. If you have any questions about sizing, please email: hello@friendlyshoes.co.uk
Friendly Shoes – comfortable and stylish for all occasions
Friendly Shoes are not only accessible and practical but stylish and fashionable for all occasions. You can wear them to work or school, running errands, walking the dog, going on day trips or even at social events.
So far, I've worn mine at my weekly drama classes and visiting friends. But with the plain colour and discreet zip, I believe I can be confident wearing them at work meetings and formal events too.
Check out our full range of Friendly Shoes on the Disability Horizons Shop. (UK VAT exemption is available for customers with qualifying conditions)
By Emma Purcell 
More on Disability Horizons…