How do you wash your hair if you cannot access a bathroom or water?
Washing your hair is one of those tasks that may not be given much thought. It is a part of your hygiene routine and something that gets done. However, if you have a disability or health condition something as routine as hair washing can require a lot of effort. 
Our writer Lucy Currier reviews the No Rinse Shampoo Cap from FreshWipes. The shampoo cap makes washing your hair easier without the need for adding water and soap.
The shower cap was produced by FreshWipes following their success with their amazing extra-thick washing and deodorising wipes. I also reviewed those too (FreshWipes review)!
Having created a product that enables people who find it difficult to shower a way to clean and refresh their body they turned their attention to how those same people could clean their hair and scalp if washing were difficult or impossible.
I cannot wash my hair without someone to assist me so I was keen to try the shampoo cap. Each cap comes individually wrapped in pink packaging and is single-use only.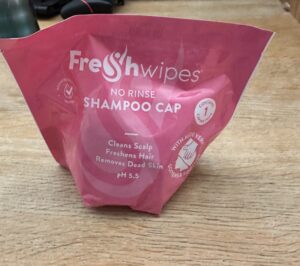 What is the No Rinse Shampoo Cap?
The shampoo cap looks like any other shower cap and is aimed at people who can't wash their hair for whatever reason or who want the convenience of cleaning their scalp and hair without washing it. Maybe because they are unable to get out of bed or cannot access a shower while traveling or staying with relatives.
FreshWipes claims that hair only has to be massaged with the shampoo cap on for three minutes and then towel dried so it could be a great timesaver.
The packaging for the shampoo cap is like a pouch. It is bright pink and very eye-catching. Instructions for using the cap are located on the back of the packaging. The packaging was cool to the touch and I began to understand why a microwave was mentioned when I asked about the product at Naidex.
I assumed that you needed a microwave to activate the liquid in the cap but it turns out that the liquid inside is just very cold so there is the option of warming it up for 20 seconds before use for comfort. I'm glad it can be used cold as needing a microwave handy could be a bit of a faff.
Using the No Rinse Shower Cap
The packaging has a little tab to make opening the product easier. Unfortunately, mine broke so I just used a pair of scissors.
Before using the cap to write this review I did use my microwave to heat it up it did feel cold but if you're not bothered about cold water you can skip this step.
The product is very wet, so wet it dripped. I needed assistance putting the cap on my head and getting all my hair in. This surprised me as I thought because I have short hair I may have been able to do this myself. I do have issues with dexterity and fine motor skills though so if you have some fine motor control you should be able to manage easily as I almost did.
Look and feel of the No Rinse shampoo cap
Once the cap was on my head it did feel a bit tight, but after a minute it felt better. It was probably no worse than any other shower cap but I've only used them once before so am not used to it.
My head was rubbed for approximately three minutes. During this process, the liquid did travel down my back and slightly down my front.
Being a wheelchair user I put a towel on my lap to protect my legs and it didn't occur to me till afterward that I should've put one around my neck.
Honestly, I don't think it would've made much difference. Next time I use the product I'll just take my jumper off.
As you can see from the photo it's not the most attractive thing to wear. Convenient it may be but I don't think anyone would use them in public anyway.
After three minutes the cap was removed. This resulted in more liquid going down my back. Once towel dried to get most of the liquid off I used my hair dryer to dry my hair. I'm a person who can't stand having her hair even slightly damp. If you're less fussy than me a towel is sufficient.
Who would benefit from using this product?
Anyone who finds washing their hair difficult would find this product beneficial. If, like me, you need carers to assist you to wash then this may be a way for you to wash independently. Any time you are unable to get out of bed because of health issues, or cannot easily access a bath or shower because of mobility issues or inaccessibility whilst away from home.
As a quick and convenient way to wash your hair, I think it's brilliant. I like the way my hair looked after use.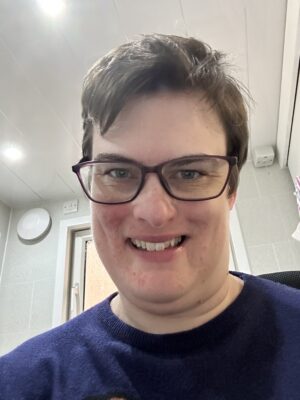 Would I recommend this product?
Yes, It's quick and comparatively easy to use. Even if you don't have difficulties washing, convenience is a good thing.
If you do these are a great way to look after your hair. They could easily be packed in a suitcase for travel for those times when accessible bathrooms don't live up to the name. Just wrap them in a plastic bag to avoid any accidents.
You can buy the No Rinse Shampoo Cap in our shop for £5.50.
By Lucy Currier
More on Shop Disability Horizons…