Zec Richardson is a blogger and reviewer at Satonmybutt and will be part of our in-house team taking a closer look at some of our products. Today he is reviewing the Knork knife and fork in one 5-piece cutlery set, from Buckingham Healthcare.
Having previously reviewed the Knork from Buckingham Healthcare, it was nice to be able to get my hands on the Knork full 5-piece cutlery set!
The 5-piece cutlery set contains the original Knork, smaller salad Knork, knife, tablespoon and teaspoon.
Disability Horizons has the UK exclusive of thee new, sumptuous finishes – ideal for Christmas – including:
Antique copper
Satin brass
Matt black
I have got the Knork knife and fork 5-piece cutlery set in both the matt black and antique copper – they are a truly beautiful looking and feeling set of cutlery.
If you read the review linked above about the original Knork, you will get an idea of why this is such a great product. It is also perfect for those who have to eat one-handed due to permanent disability or short-term injury.
It is easy to eat one-handed as the well-balanced Knork fork has a lovely weight. Despite not being able to cause injury to yourself, it cuts through food easily with a rocking motion. I put it to the test and it coped with most meats!
All of the cutlery pieces have a lovely weight to them and they are perfectly balanced and ergonomically designed, meaning you get less hand fatigue when using cutlery.
Now I know that it may sound strange to talk about fatigue in the hand just through eating a meal, but it happens to a lot of people. It can also result in a flare-up of pain and stiffness in the hands and wrist joints.
For example, after writing this review, my hands become a lot stiffer and painful, due to the repetitive strain placed on my joints, and having to poise my hands in an uncomfortable position for typing.
I now prefer to eat with the Knork cutlery set!
The Knork forks are amazing on their own, but the knife included in this set is a very nicely designed piece of kit. It is balanced perfectly, has a lovely weight to it and has that 'comfort finger platform' like the Knork fork.
They are also sharp, and so cutting is easier with the Knork knives!
The tablespoon and teaspoon have that same lovely weight and balance with the 'comfort finger platform', and the same sweep/deeper scoop that the Knork fork has.
I mentioned in the original Knork review that the stainless steel Knorks are easily lost amongst other cutlery, and if you took them with you to eat out, they could be accidentally scooped up by an unknowing waiter or waitress.
The matt black and antique copper finishes solve that problem – and they also look very nice, too.
They are made from stainless steel and are titanium-coated via PVD (physical vapour deposition), making them abrasion-resistant and dishwasher safe, although hand washing is recommended.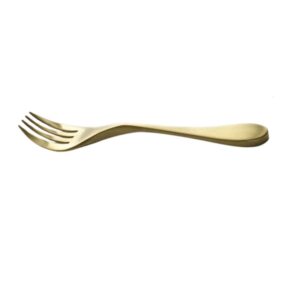 The stainless steel Knork knife and fork in one 5-piece cutlery set is currently available on the Disability Horizons shop costing £23.40 including VAT.
You can also purchase a 20-piece Knork cutlery set consisting of four sets of the cutlery in Stainless Steel for £64.36 including VAT.
By Zec Richardson
If you have enjoyed this review, check out Zec's YouTube Channel and his website. You can also find him on Facebook, Twitter and Instagram.
More on this…