Zec Richardson is a blogger and reviewer at Satonmybutt and will be part of our in-house team taking a closer look at some of our products. Today he is reviewing the Uriwell Unisex Travel Urinal.
There is nothing quite as horrible as needing a wee when you are out and about – having a full bladder is very uncomfortable.
I have a standard, hospital-looking urinal, which is okay to use at home. But it is bulky and the lid isn't exactly leak proof.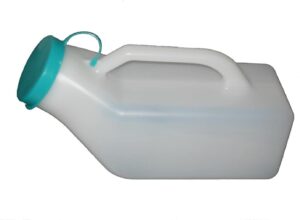 The Disability Horizons Shop sells the Uriwell unisex travel urinal, which folds down when not in use, offering a compact solution for men, women and children.
The Uriwell portable urinal
They are a few options available, including models with character lids, ideal for kids:
When fully open the adult Uriwell travel urinal can hold 750ml of liquid and the Happy Pee holds 375ml.
When I first had a look at this product, I struggled to pull the concertina tube to open it right up. It was solid.
But then my brain engaged – I needed to open the lid first. Once I had done that, it was easy. That certainly shows how good a seal the lid forms. It had created a vacuum stopping me from extending it!
The opening of the Uriwell travel urinal is shaped in such a way that it can be used by anyone. I asked Mrs R to test it as well and indeed it does work.
Benefits of the unisex travel urinal
What I like, in particular, is that the concertina design enables the tube to be bent. This means that, if like me you are in a wheelchair or just sat in a car, you can shape it down and round the seat. This does then reduce the capacity of it though (no good for morning wees!).
When extended, the tube is clearer so you can see the volume of liquid inside, which is always a very good idea!
There was only one issue that we encountered and that was that on the Happy Pee we received. The top portion wasn't attached to the tube very well, making it quite loose. But both of the adult versions were perfectly okay, so possibly just a random duff one?
This is a very handy product to keep in a travel bag or the glove box of your car. It is especially useful if you are travelling with children as they always seem to want a wee when you are miles from a service station or toilet.
There is nothing fancy about this product, it is a does what it says and so is priced well.
Portable urinal video review
By Zec Richardson
If you have enjoyed this review, check out Zec's YouTube Channel and his website Satonmybutt. You can also find him on Facebook, Twitter and Instagram.