The Functionalhand is a gripping aid designed to help people with limited hand function to grip items. It was developed by OT's Linda Merry and Celine Skertich. They wanted to help their clients progress, achieve and do more for themselves, bridging the gap between determination and ability.
Here, our writer and editor Lucy Currier, who has cerebral palsy and limited grip with her left hand, tried out the Functionhand to put it through its paces.
How does the Functionhand work?
The Functionalhand enables increased hand function. It has a handle, a platform to place objects into and a loop of cord material to hold them in place.
The cord goes through the handle and pokes out of a hole located at the other end. To use, pull the cord at the top of the device that sits between the platform so that a loop appears. Put the item you want to grip within the loop and, if possible, flat on the platform.
Pull the length of the cord at the other end until the loop is tight and secure around the item you are using. Hold the handle and use your item. The ergonomically designed handle helps you to grasp it and the loop does the gripping for you.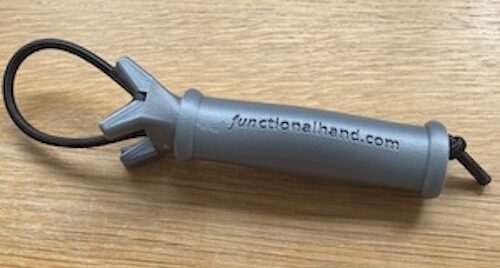 You can buy the Functionalhand now on the Disability Horizons Shop for £33.75.
Using tablets and phones can be hard or impossible if you struggle with handgrip. The Functionalhand can hold phones and styluses, enabling people to use electronics in ways they would otherwise be unable to.
Being able to grip a stylus and tap a screen is a basic requirement of many modern devices that not everyone can manage. With the Functionalhand they can.
I found that the loop didn't go wide enough to grip my iPhone 11, but it would grip onto my old iPhone 4. Gripping my Apple pencil stylus though was very secure and I could operate my tablet easily.
I flagged this with creator Linda Merry, and she said that they will look into the cord length.
I performed all of these tasks with my left hand as I have sufficient handgrip with my right hand. Colouring with my left hand is something I've never managed before, so it was great to be able to do it.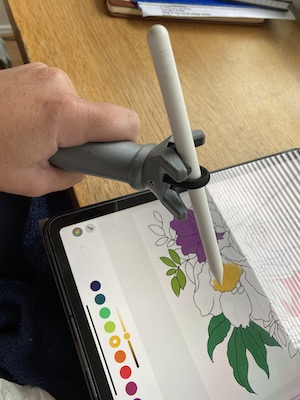 Holding and operating a TV remote can be made easier by using the Functionalhand. Less dexterity and hand function are required.
My remotes slipped when I used the Functionalhand, but it worked well when I rested them on my lap. You could also use the Functionalhand to hold a stylus or a pointing device to work the remote while it is laid flat on a table or tray. You could also use a non-slip mat to ensure they stay in place.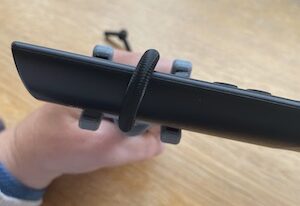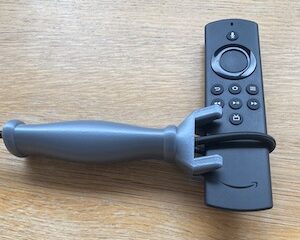 Writing with the Functionalhand
Using the Functionalhand, I wrote my name with my left hand for the first time. Again, I can write normally with my right but even so, I felt very pleased with my accomplishment. Writing for the first time must feel like a massive achievement.
My pen did slip slightly when I first tried it, so I had to use a thicker pen. I also spoke to Linda about this, and there is a way to tighten the elastic cord. This resolves any slipping issues. 
I also found that pen and pencil grips can be utilised to make standard writing tools more accessible and can assist the Functionalhand in maintaining its grip.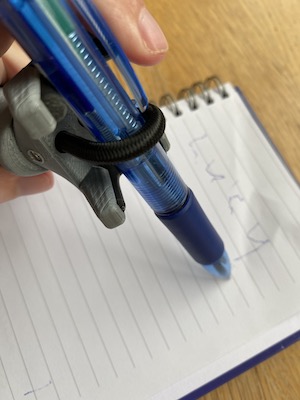 Drinking with the Functionalhand
Drinking wasn't possible for me with the Functionalhand because the loop didn't open wide enough to fit any of my cups or flasks. I have seen photos on the Functionhand website of people using it to drink with narrow cups. The smallest thing I had was an empty lemonade bottle, pictured below. This is only a small bottle and the loop is stretched to capacity.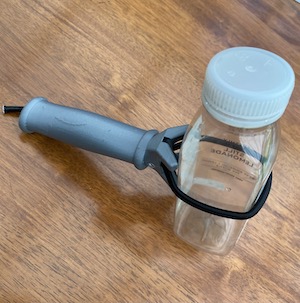 Using the Functionalhand to eat
Eating using the Functionalhand was a little tricky at first, probably due to the fact that I use standard cutlery. Again, originally, I didn't realise that the loop could be tightened. 
Before knowing this, I was able to solve the problem by hooking the thumb of my left hand onto the loop. This was sufficient to hold my cutlery in place, but I'm aware that not everyone has the handgrip to achieve this. Tightening the loop should solve this, depending on the cutlery you use.
Assisting with play and art
To play and create you have to have the ability to grip. I used the Functionalhand to hold a print stick when crafting. You could also use it to hold pens, pencils, pain brushes etc, depending on the width.
Although I have no personal experience of using this gripping aid as a play accessory, what I have used it for shows me that this would be a play assistant.
Any equipment that enables children to interact with the world around them is a brilliant thing. Apparently, dolls and action figures fit very well inside the Functionalhand. We would love to see your pictures.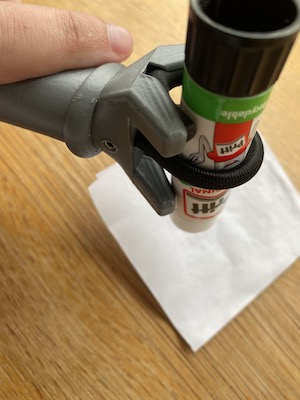 Would I recommend the Functionhand?
Yes! The Functionalhand is a great product for people with limited handgrip functionality. It is useful for a variety of functions and is small enough to be portable so you can take it wherever you go.
My only caution is that if you are buying this for yourself and you have very limited hand function, make sure you have somebody who can fit items into the Functionalhand for you. Dexterity is needed to place the items into the Functionalhand and it can be fiddly.
I wish the loop was larger so that I could use standard cups, but overall this is a brilliant product. Especially for, but not limited to, children who are learning what they can do rather than what they can't.
See the chart below for ideas of how to use the Functionalhand from the Functionhand website.
Buy the Functionalhand now on the Disability Horizons Shop for £33.75. You can also watch a video of it in action.
By Lucy Currier
More on Disability Horizons…