Introduction: Key Management Solutions using an Over Size Keyfob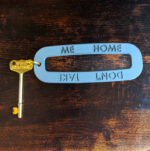 Managing keys is a common challenge for businesses. Keys get lost, misplaced, or taken home, leading to costly replacements and security risks. The "Don't Take Me Home" keyfob offers a unique key management solution that addresses these issues. With its oversized design and clear "Don't Take Me Home" text, this keyfob is a must-have for any business looking to streamline key control.
Product Overview
The "Don't Take Me Home" keyfob is an innovative product designed to prevent the accidental removal of keys from business premises. Made from environmentally friendly PLA plastic and 3D printed in the UK, this keyfob is lightweight but strong. Its large hoop shape allows for easy hanging and holding, making it a practical addition to any key management system.
To purchase click here. Currently £4.95 inc VAT. Please email for trade order bulk prices.
Key Benefits for Businesses
Avoid Lost Keys
Clear text reminder prevents lost keys, saving both money and time. This keyfob system is an essential part of modern key management solutions, reducing the risk of misplaced keys that can compromise security.
Easy to Spot
The oversized fob design ensures quick identification, improving efficiency within the workplace. It's an ideal tool for businesses that handle multiple keys daily, offering a simple yet effective way to keep keys organized.
Enhances Security
By preventing keys from being taken home, this keyfob enhances overall security. It's a valuable addition to commercial key control strategies, ensuring that keys remain on the premises where they belong.
Perfect Fit for Various Industries
Whether it's managing room keys in hotels or securing access to storage areas in retail shops, this keyfob fits a wide range of commercial needs. It's a versatile tool that simplifies key management across various sectors.
Examples of Commercial Uses
Hotels and Hospitality
Prevents frustration by managing room keys, storage closets, and more. Organises daily room key returns, enhancing guest experience and staff efficiency.
Educational Institutions
Secures faculty office keys, lab keys, and more. Helps staff spot correct keys fast, reducing time spent searching for the right key. Ideal for schools and universities aiming to streamline key management.
Healthcare Facilities
Prevents unauthorised access to medicine cabinets, patient records, and more. Offers a visual reminder for busy medical staff to return keys promptly, contributing to overall security and organization.
Retail Shops
Organises point-of-sale keys, backroom access, and more. Facilitates quick identification of registered keys, improving daily operations and reducing the risk of theft or loss.
Corporate Environments
Keeps documents secure and helps new interns and employees learn the system faster. A vital component in corporate key management solutions, ensuring confidentiality and order.
Transportation Hubs
Avoids gate access issues and assists in tracking and managing keys. Keeps operations smooth, preventing delays caused by misplaced or lost keys.
Key Takeaways (and how to prevent them!)
Prevents expensive lost and stolen keys.
Keeps keys organised and identifiable.
Enhances security by stopping keys from leaving premises.
A helpful visual reminder that reinforces best practices.
A versatile tool for businesses struggling with key control.
For more details and to purchase the "Don't Take Me Home" keyfobs as part of your key management solutions, click here.
Useful Resources for Learning More About Key Management Solutions in the Workplace
For those looking to delve deeper into the world of key management, there are several resources available.
Great Valley Lockshop provides a guide to master key systems and commercial key management, explaining the workings and significance of key organization in ensuring security.
InstaKey offers six key control program best practices, emphasizing control over key creation and defining protocols for lock changes.
Richmond Security highlights the importance of proper handling of mechanical keys to prevent unauthorized access.
Real Time Networks outlines nine steps to create a comprehensive key control policy, discussing the weaknesses of traditional keys and the importance of rekeying. They also offer the ultimate guide to key control in the workplace, explaining how key management systems restrict access, reduce loss, and enhance safety.
Lastly, SourceSecurity.com discusses the importance of key management and the advantages of a key-centric access control system. These resources provide valuable insights for anyone interested in implementing effective key management solutions… because knowledge is key!
FAQ Key Management Solutions With An Extra Large Keyfob
What is the "Don't Take Me Home" keyfob?
The "Don't Take Me Home" keyfob is a large key holder designed to prevent keys from being accidentally taken home or misplaced. It's ideal for businesses that manage multiple keys.
Who can benefit from this keyfob?
Commercial businesses such as hotels, retail shops, healthcare facilities, educational institutions, and transportation hubs can benefit from this keyfob by enhancing key organization and security.
How does the keyfob prevent keys from being taken home?
The keyfob's oversized design and clear "Don't Take Me Home" text act as a visual reminder to return keys to their proper storage location, preventing them from being accidentally taken offsite.
Where can I purchase the "Don't Take Me Home" keyfob?
You can purchase the keyfob from Disability Horizons Shop.
Is the keyfob suitable for any specific industries?
Yes, it's suitable for various industries including hospitality, education, healthcare, retail, corporate environments, and transportation.
What material is the keyfob made from?
The keyfob is made from environmentally friendly PLA plastic and is 3D printed in the UK.