Announcing the Ultimate Playing Card Holder: Game On!
Elevate Your Card Game Experience
We're thrilled to introduce the Ultimate Playing Card Holder. This isn't just another cardholder. It's designed for anyone who loves card games and needs a little support in holding them. It's a new design from disabled entrepreneur Bradley Cory.
Key Features of Our Ultimate Card Holder
Four Rows for Cards
Organise your cards neatly. The four rows ensure visibility and easy access.
Optional Screw-In Stand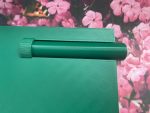 No more fumbling or awkward positions. Keep your cards private, no dropped card worries. Use the screw in stand to add an angle or go traditional horizontal, it is your choice.
Versatile for All Gaming Card and Table Top Games
Whether it's Poker, Monopoly, or Magic: The Gathering, this gaming card holder has got you covered.
A Valuable Aid For Disabled Gamers
This isn't just for card masters. It's a solid support for those with gripping challenges.
Eco-Friendly Material
Made of PLA plastic, it's as good for the Earth as it is for your game.
A Card holder that is Made in the UK
Made by "Barrier Free World" in their workshop using a top spec 3-D printer.
Compact and Portable Card Holder
Easy to take along for game nights or gatherings. Unscrews and folds flat for easy carrying.
Why This Card Holder?
It enhances your game, supports those with gripping challenges, and it's eco-friendly. Made in the UK, this holder is your card game's new best friend. Created by Brad who is a stroke survivor and enjoys tabletop card games, it's exactly what is needed for you to be able to scruntise your cards and smite your enemies (via the medium of card play!). He designed a cardholder for disabled people because of his desire to get back into gaming and enjoying nights in with his friends.
 Our goal is to make the world more accessible and inclusive. We understand the immeasurable joy that comes from playing card and board games with family and friends. As a stroke survivor, I have personally experienced the struggle of holding many cards, and this cardholder would have been invaluable during my childhood. After my stroke, this product became essential to allow me to rejoin the gaming community. – Bradley Cory
Get Yours Now
Ready for an elevated card game experience? [view more details and add to the basket here] and make your game nights more enjoyable and easier to play with the Ultimate Card Holder.
"Don't let discomfort or inconvenience hold you back. Elevate your gaming experience today!"
Card Games and Mental Health
Don't forget playing card games offers several mental health benefits, it's a guilt-free pleasure that can help your feelings of well being and mental acuity and happiness: