Self-care can become problematic through age, disability or poor health. Keeping our independence is something we all want, but sometimes you need some extra help.
Zec Richardson, a blogger and reviewer at Satonmybutt, will be taking a closer look at some of our products as part of our in-house team. Today, Zec is talking about the Peta Easi-Grip nail care set, an essential aid that can help if you struggle to cut your nails. It comprises of three nail care items in a clear soft case with zip closure.
Peta mini Easi-Grip scissors
They are lightweight, compact, self-opening scissors – designed specifically for those with joint conditions.
These are a sharp little pair of nail scissors, and I like the fact you can attach a piece of cord through the end of the joined handles. That way if you regularly drop items, they would still be there on your wrist.
I can also see these little scissors being helpful in unpicking seams!
Peta tabletop Easi-Grip nail clippers
These are non-slip, mounted nail clippers for use on tabletops and work surfaces – aids those with limited dexterity and weakness of joints to cut and trim fingernails at tabletop level.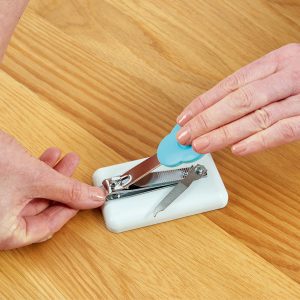 These are the star of the show – a large pair of nail clippers mounted on a plastic board that has four non-slip feet.
It also has a large pad on the nail clippers to make it easier to depress the lever and cut your nail.
These are so handy and many people will find these to be a 'godsend'. I think it is also possible to place them on the floor and clip your toenails using your other foot to depress the lever!
Peta long-reach Easi-Grip toenail cutters
A comfortable, safe alternative to traditional nail clippers and scissors – the extended, long-reach shank eliminates the need to bend or stretch uncomfortably when trimming toenails.
My mum, aged 70, saw these, and I know that she is after them.
For many people, being able to reach down and touch your toes is but a distant memory. Your struggling days are over as these scissors will be perfect.
The handles are extremely comfortable and it has a large handle opening – even I can get three fingers through! The grip on the handles is also very good.
Peta Easi-Grip nail care set video review
As I said, the set comes in a clear zipped case that I think would also be very handy to take on holiday, as the airlines/airports like you to have items in a clear bag and this would do that job.
So the Peta Easi-Grip nail care set is a very practical set that will help you take care of your nails.
It is priced at £18.95 inc VAT from the Disability Horizons Shop.
By Zec Richardson
If you have enjoyed this review, check out Zec's YouTube Channel and his website Satonmybutt. You can also find him on Facebook, Twitter and Instagram.
More on Disability Horizons…