Here at the Disability Horizons Shop, we only sell high-quality, stylish disability living aids from trusted suppliers – and that includes the inventors of the Functionhand.
Meet Celine Skertich and Linda Merry, whose experience working as paediatric therapists led them to create a versatile grasp aid called the Functionalhand. 
Please tell Disability Horizons readers a bit about yourself and your background.
Celine Rosati Skertich is a physical therapist with more than 35 years of experience empowering individuals living with disabilities to achieve their maximum potential.
She has lectured and taught continuing education courses on a variety of topics, and is a published researcher, clinical instructor, mentor and coach.
Linda Merry is an occupational therapist with 34 years of experience. Her continuing education courses have focused on assessment and treatment of the upper extremity. Her passion is using assistive technology to optimise function for people with disabilities.
We both work at Easterseals DuPage & Fox Valley, a paediatric therapy center in the US.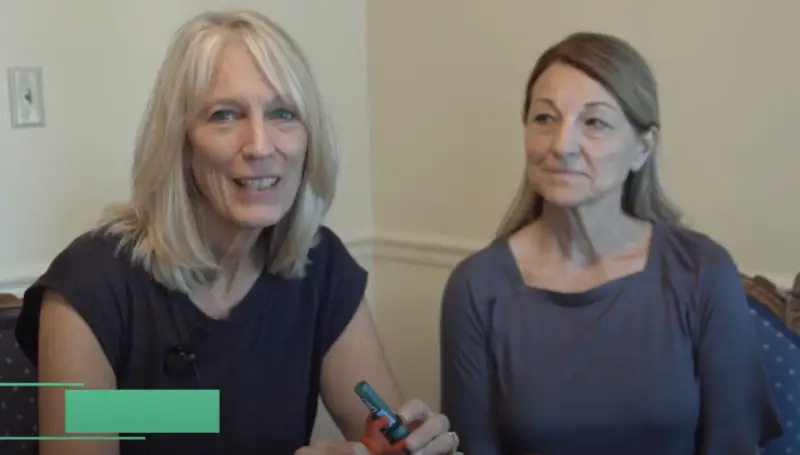 Can you tell us about your product, the Functionalhand?
It's a tool that is fun, functional and flexible! Our Functionalhand was designed with FUN in mind.
Every individual should have the opportunity to color, paint, play on their electronic device, and participate in activities their peers enjoy.
That's what the Functionalhand does – it assists people to do so much more, whether it's practical or for play!
View this post on Instagram
Our product's unique and flexible design allows someone to hold functional tools of many shapes and sizes in both vertical and horizontal positions. Here a list of just some of the functions…
Fun
Paint –

use with paintbrush, w

onder paint or paint with water books.
Write

– use with a marker, crayon, pencil or pen of any size or shape.

Access electronics – use on

the iPad, tablet, phone or any other electronic device.  

Craft –

holds a glue stick or stampers.

Play games –

holds a Velcro connector in place to play games, such as cards, tic tac toe, dot game and anything that requires you to roll a dice.
View this post on Instagram
Functional
You can also place the following items into the Functionalhand to increase independence.
Stylus

straw

cup

spoon

cell phone

bingo marker

toothbrush

water bottle

gardening tools

pen, pencil, crayon, marker.
View this post on Instagram
Flexible
The Functionalhand is also flexible and can help in a range of other settings.
It assists constraint-induced movement therapy, where we try to decrease the impact of a stroke on the upper limbs

by supporting it in good alignment and encouraging better movement. Regardless of grasp abilities, it supports this during a variety of fun tasks.

It promotes bimanual therapy, which helps children to learn to use both hands at once,

by enabling them to sustain hold of an object in one while successfully manipulating it with the opposing one.

It prevents the d

eterioration of hand functions that are challenged or failing due to arthritis or a degenerative disease.

It allows movement-specific

activities. For example, the person can hold an object using the Functionalhand while isolated movements, such as shoulder strengthening and elbow and wrist extension, are done.
What inspired you to create the Functionalhand? 
Through our jobs, we met so many children with grasp difficulties that wanted to color, paint and use other tools for play and function.
Some were unable to hold the tools to complete these tasks. Others held the paintbrush or marker in a manner that reinforced the movements that aren't good for them and, as therapists, we aim to avoid. 
View this post on Instagram
We knew there had to be an easier way. So we had to come up with a way that enabled them to complete the tasks and participate, whilst also doing so in a way that didn't negatively impact their joints and muscles. 
Current products available on the market typically solved a single problem i.e. a universal cuff held only a spoon or one size of marker pen. 
View this post on Instagram
There needed to be a way to create a truly universal product that allowed individuals with grasp difficulty to complete a wide variety of tasks.
The Functionalhand achieved the goal, but, in the process, we created a product that allows both children and adults to take part in a wide range of activities.
How does your product impact your patients and what has the response been from customers? 
Our tool allows patients to engage in activities with their families and peers that would otherwise not possible. 
Whether it be to hold a marker or paintbrush, eat an ice cream cone for the first time, play the violin, a game of cards or even light the family Manora, we have been in awe of all the things our clients can achieve with the Functionalhand.
View this post on Instagram
Customers have shared their stories from all over the USA, Europe, Australia and New Zealand.  It is their stories that truly inspire us to move forward with getting our product out to as many people as possible.
Why are adaptive tools important?
Adaptive tools allow people to achieve their goals, whether that be to paint, eat independently or be part of a group activity. They allow people to function more effectively and participate more fully.
View this post on Instagram
Why did you join forces with Disability Horizons and start selling your product on our shop?
We are honored to team with Disability Horizons given its passion to enrich and support people who have a disability or chronic health condition.
As therapists for more than 40 years, we love that the Disability Horizons team is passionate about helping disabled entrepreneurs grow their businesses, and employing disabled people. We feel our product nicely pairs with their mission.  
What are your hopes for the future of Functionalhand?
Our dream would be to get it into every school serving children with disabilities and into the hand of as many individuals as possible with a grasp impairment.
View this post on Instagram
We are also currently looking into methods to mass manufacture the Functionalhand and bring down the price. 
What advice do you have for other entrepreneurs starting their own business? 
Remind yourself if you initially fail, First Attempts Inspire Learning! If we can do it so can you!
Learn more about the Functionalhand and purchase your own on the Disability Horizons Shop.
More on Disability Horizons…