Zec Richardson is a blogger and reviewer at Satonmybutt and will be part of our in-house team taking a closer look at some of our products. Today he is reviewing the Knork knife and fork in one, from Buckingham Healthcare.
Having recently connected with Disability Horizons, who is always looking to work with disabled bloggers and vloggers, I have been sent a range of products available on the Disability Horizons Shop to review.
First up, the Knork from Buckingham Healthcare. It's a knife and fork in one and enables you to cut food using a rocking motion.
The Knork is made from stainless steel and it comes in a tube. This is a very useful addition for when you take the Knork out and about with you or are at someone else's house.
Now, despite the fact that this is a knife and fork in one, the edge of the Knork is not sharp. It poses no risk of cutting your hands or the inside of your mouth, and yet it performs the task of cutting food with great ease.
At a weight of 46g, the Knork has a good feel to it. The prongs curve upwards, which allows you to scoop food onto the Knork easily, even when eating one-handed.
The chunky design of the Knork also allows you to get a very comfortable grip of it. The area where your finger or even your thumb is used to provide pressure is very comfortable, thanks to being so wide.
You can also purchase the Knork with a contoured foam handle if you have problems with gripping eating utensils.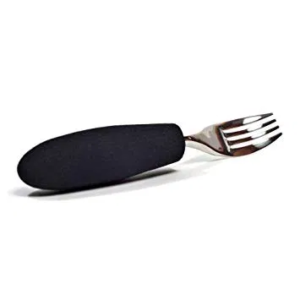 I used the Knork one-handed (without the foam handle) for all of my dinners for a week and found that, quite weirdly, I fell in love with an eating utensil!
Despite the fact that, at the moment, arthritis in my hands isn't hugely problematic, I will continue to use the Knork as it such a lovely product.
Video review of the Knork knife and fork
Watch my video review of the Knork to see it in action.
Even if you don't have any difficulty using cutlery, the Knork is, in my opinion, a great addition to the cutlery draw!
The Knork fork and knife in one costs £6.95 (inc.VAT) and comes in three finishes – stainless steel, matt black and antique copper – exclusive to the Disability Horizons Shop.
The Knork with contoured foam grip costs £12.95 (inc. VAT). You can also get a set of four Knorks for £20.82 (inc VAT).
By Zec Richardson
For our round up of the history of knorks and our complete guide to our knork range click here
If you have enjoyed this review, check out Zec's YouTube Channel and his website. You can also find him on Facebook, Twitter and Instagram.