Zec Richardson is a blogger and reviewer at Satonmybutt and will be part of our in-house team taking a closer look at some of our products and today he is reviewing Buckingham Easywipe bottom wiper range.
For me, and I think for many others, taking care of our own toileting and associated requirements is something that we would like to do for as long as we can. The range of Buckingham Healthcare's Easywipe bottom wipers can help with that.
It might be that you need assistance due to a disability that you were born with, or one that you acquired after an accident or surgery. It could also be from limited mobility in the joints or even something as simple as a pulled muscle in your back. Whatever it might be, twisting to wipe yourself can be tricky.
I have to admit, it is something that has worried me. I am not at that stage yet, but as my disability worsens and I get older, I can see a time when I will need help.
Easywipe bathroom aid
For the past week, I have been using three models of the Easywipe range, the standard bottom wiper, a foldable wiper and a pocket bottom wiper.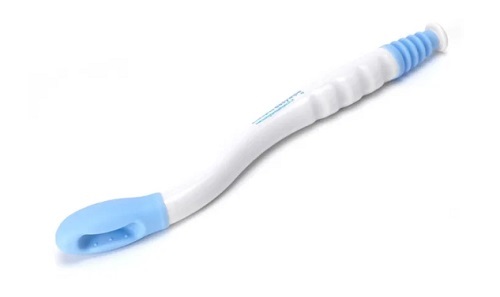 The standard Buckingham Easywipe bottom wiper costs £18.95 including VAT from the Disability Horizons Shop. It comes as all of the Easywipe products do, boxed with instructions and with a zippable, wipe-clean pouch to store it in.
I highly recommend familiarising yourself with the product and having a 'dry run', if that is the term! It makes it a lot easier when you come to use it for real.
Having said that, it very easy to use. Simply take approximately 4 sheets of toilet paper and wrap them over the end of the wiper and push the sides into the slot on the underside. Make sure you don't wrap it around it or you won't be able to remove it after use.
When finished, you press the button to release the used toilet paper. Watch the video below to see how it works (don't worry, I am not on the toilet in the video!).
The wipeable part that the toilet tissue sits over is very soft and comfortable to use. It is also easy to keep clean with no gaps or cracks that could get soiled and be hard to clean.
I found the Easywipe very easy to use and was impressed with how well it helped with the task it is designed for.
Foldable bottom wiper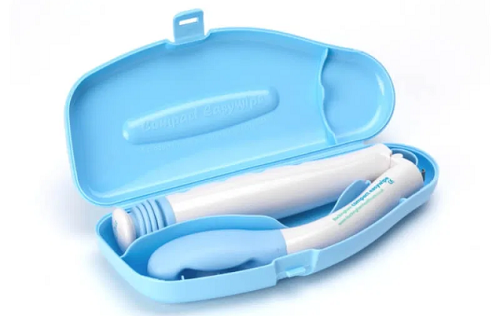 You can also get the Buckingham Easywipe folding bottom wiper with a case.
It is identical in every way to the standard version, except for the fact that, as the name implies, it folds in half and it comes with a plastic carry case that would fit easily into a bag.
It functions in the same way as the standard Easywipe and costs £28.95 including. VAT
There is also a pocket-size bottom wiper, which costs £24.95 including VAT and is different from the previous two Easywipe models.
With this version, you sacrifice the push-button function to make it this handy foldable size.
It may suit some people better because, as well as being an easy-to-handle size, it also angles differently. On the wipeable section, it gives 38cm/15" of extended reach – take a look at the still on the video below to see what I mean.
It also comes with a soft-touch case and is a foldable size of 16cm (6 ¼"), x 2.5cm ( 1") x 3.5cm (1 ½").
The toilet tissue attaches differently on this model. It is secured in the grip of a slot at the top of the wiping portion.
I found that this didn't grip the toilet tissue quite as well as the two larger models of the Easywipe. Also, with no button to press to dispose of the tissue, you have to give it a shake it.
Again, this model is soft and comfortable to use and I found the angle very different to use compared to the two wipers.
But, as I said, although you sacrifice the easy-to-use functions, you get a handy, storable size. And the Buckingham Easywipe pocket-size bottom wiper certainly does slip into your pocket easily, so that is very handy and more discreet.
The Easywipe can also be used for vaginal cleaning as well as anal. If you want to use it like this, it is worth having a dry run to see if you would use it from the front and between your legs, or from behind.
Easywipe bottom wiper video review
By Zec Richardson
If you have enjoyed this review check out Zec's YouTube Channel and his website Satonmybutt and you can also find him on Facebook, Twitter and Instagram.
More on the Disability Horizons Shop…