Back on the road again!
I'd like to share some wheelchair travel tips. Before having children, my wife Clare and I backpacked across
Australia for three months, using public transport and carrying everything we needed on my back and Clare's lap, with me also pushing her manual wheelchair. Now, 18 years later our boys are grown up, we've decided to get back out there and start having those adventures again. We are older and seem to need a lot more stuff, but have a few new gadgets too! Clare now has a power chair so we can carry a little more on that than the manual chair. We recently completed a 10-night trip across Guildford, Horsham, Bognor Regis, and Oxford. Here are some wheelchair travel tips we've picked up over the years.
Saving on Train Travel: The Disabled Persons Railcard
We made this trip mostly by train. We have a Disabled Persons Railcard, which gives us a 1/3rd off discount on train travel. The discount applies to both Clare and me, as long as we're travelling together. It's £20 annually or £54 for 3 years, so with the price of tickets these days you very quickly get your money back and start saving. For example, our tickets from Oxford back to Loughborough cost £86.80, saving us £43.40 on just that journey alone.
Booking Assistance for Train Travel: The Passenger Assistance App
It's always a worry knowing if there will be a Guard around to help with a ramp so that we can get on the train. We usually phone ahead but there is a new app for booking assistance so we gave it a try. I found it very easy to use and there was always someone waiting to help us. The transfers went smoothly and the staff were accommodating. I have seen (on Twitter) that other people have had problems with it though and there are currently lots of people worrying about the removal of ticket staff and the effect that will have on disabled people's ability to travel.
Over the past two years, disabled people have been strongly encouraged to book assistance through an app. The strong insinuation being of we do that our assistance will be 'guaranteed' but am from personal experience it doesn't always work.

— Tanni Grey-Thompson (@Tanni_GT) July 26, 2023
I would recommend using it if you can because there were limited spaces and I heard one Guard say "We've got to get them on because they booked it with the app" and they upgraded us to a first-class carriage wheelchair space.
Accessing Disabled Toilets: The Genuine Brass RADAR Key
A "must carry" is a genuine brass RADAR key. Very useful for train stations where the toilets are often locked or town centres. This gives us
quick access to disabled toilets while travelling. It's essential IMHO buy genuine brass keys than slightly cheaper copies that can be unreliable in an emergency. Over the years I've met several people who bought fake cheap keys that didn't work and they were unhappy! I also find having your own toilet key a bit more hygienic and convenient than having to ask to borrow one. It's well worth the small investment.
Essential Hydration: The Hydrant Water Bottle
One of the first things we pack is the Hydrant Water Bottle. It's a fantastic tool that allows Clare to drink without assistance, whether we're on the move or during the night in bed. We use the Sports Hydrant because it has a big handle but there is also the type with a tube that you can clip on to clothing so it's always within reach. Everyone knows about the importance of staying hydrated. It also saves money and plastic as an alternative to buying bottled water.
We also carry Buckingham Bed and Chair Raisers. These handy devices raise the bed to a better height, making transfers easier and reducing the risk of back strain when I'm helping as a carer. They were especially useful in our spacious and quiet accessible room at the Premier Inn in Horsham. I wish hotels would supply these and offer to put them under the bed before arrival because it can be a struggle. I've asked a porter or hotel staff to help in the past when the beds have been heavy to lift.
Ensuring a Good Night's Sleep: Blox Earplugs and Blacknight Luxury Blackout Sleeping Mask
We never forget to pack our Blox Earplugs. These earplugs are a lifesaver in a hotel environment where noise levels can vary. I use a CPAP machine, which can be a bit noisy, and there's always the potential for noise from other guests. The Blox Earplugs are designed to provide maximum noise protection, ensuring a peaceful night's sleep. They're comfortable, easy to use, and highly effective.
Another item we find incredibly useful is the Blacknight Luxury Blackout Sleeping Mask. This mask is perfect for those times when the hotel curtains don't quite block out all the light, or if one of us wants to sleep while the other is still awake. The Blacknight mask provides total darkness, enhancing the quality of your sleep. It's designed with adjustable, soft pile fabric eye covers for maximum comfort, and it comes with a black velour pull-string bag for easy portability and cleanliness.
Carrying Personal Items: The Trabasack Curve
The Trabasack Curve is another essential item for our travels. One of the must-have items that always accompanies us everywhere. For the past 16 years, we've been using Trabasacks daily ever since Clare, their inventor, brought them to life! The Trabasack is a unique fusion of a lap tray and travel bag, complete with a purpose-built tray surface. Whether we're in a bustling café, a crowded museum, or any place where Clare can't access a table or fit her legs underneath one, the Trabasack comes to the rescue. Simply swung around to rest on her lap, it provides a convenient and accessible surface anytime, anywhere.
The Trabasack Curve is designed with a sturdy and steady flat surface, making it ideal for working, eating, or playing on the go. It's also equipped with straps that can be attached to any wheelchair with speed and ease. Everyone can find them useful but for wheelchair users it's the best and most versatile wheelchair tray in the world. But then I would say that…
The Trabasack Curve is more than just a convenience; it's a tool that enhances our travel experience, making our adventures more comfortable and enjoyable. It's a testament to the fact that with the right equipment, the world is truly your oyster, no matter what challenges you might face. 
Drinking on the Go: Carry your own cup
As we settled into our routine, we also made sure to have a few more essentials on hand. One of these is a porcelain cup we carry
because Clare finds the handle easy to hold. It has a patterned design, which helps ensure it doesn't get mixed up with cafe or restaurant crockery and taken away by mistake. While this is an ordinary mug, we do sell a cup with a similar but rotatable handle that people find extremely useful – the HandSteady Drinks Cup. This cup is designed with a rotatable handle and hidden lid, making it easier for people with limited dexterity, tremor, pain, or weakness to drink with confidence. The handle allows the cup to centre with gravity if you have shakes or spasms. The cup can also be tilted with the other hand to make it easier to drink.
Eco-friendly Dining: Bamboo Straws and Knork Eco-friendly Fork and Spoon Set
We also always carry a set of Bamboo Drinking Straws with us. These straws are reusable, and Clare can use them to drink from glasses and cups that she might not be able to lift. They're also handy in bars and pubs where a porcelain cup might not be appropriate. The set comes with a convenient carry bag and a coconut husk cleaning brush, making it easy to take with us wherever we go. Personally, I understand that bamboo straws are not for everyone and some people need plastic straws, I think food outlets should stock a few for disabled people if they need them.
Another small but essential item we always carry with us is the Knork Eco-friendly Fork and Spoon 6-Piece Set. These utensils are not only eco-friendly, but they're also lightweight, making them perfect for Clare who finds some cutlery too heavy.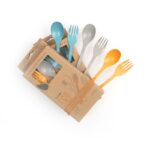 The Knork set is made from earth-friendly materials, specifically 90% sugarcane and 10% bamboo fibre, bound together with a binder made from plant sugars. This makes them biodegradable by design, but they're also dishwasher-safe for convenience. 
These utensils are perfect for all dining situations, whether we're eating out around town, having a picnic, or just grabbing a quick bite on the move. They're also suitable for people with one hand or those with dexterity issues, like the traditional knork, they have a bevilled edge that can cut with a rocking motion, making them a versatile choice for many. 
When we're on the go, we carry these utensils in Clare's Trabasack Curve. This way, we're always prepared for meal times, no matter where we are.
Staying Clean While Travelling: No Rinse Shower Cap Freshwipes and Freshwipes Anti-Bacterial Body Wipes
While we usually stay in accessible rooms with bathrooms, we've found that it's easier and faster to wash while travelling using a couple of specific products.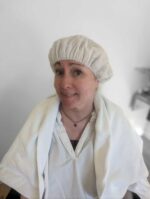 Firstly, we use the No Rinse Shower Cap – Freshwipes This rinse-free shower cap is a fantastic way to freshen up your hair if you can't shower or bath for any reason. You simply take it out of the packet, place it on your head, and massage your hair through the cap for 3 minutes. The liquid contained inside the cap cleanses and conditions your hair without water or soap. There's no need for rinsing, just dry with a towel, making it perfect for situations where water is not readily available. We have had a few occasions abroad where we have had to wash Clare's hair in the hotel garden, or around the pool and once we even washed it in a carpark using 5 litre bottles of warm water from the hotel room! 
Secondly, we carry FreshWipes Anti-Bacterial Body Wipes. These wipes are gentle, antibacterial, and designed for full-body washes. They're a great alternative to a bath or shower while on the move or for people with disabilities who struggle to bathe independently. They're also extra soft, and thick, and come in light, unisex scents. 
These products are not just convenient, they're also eco-friendly. All FreshWipes products are also plastic-free, plant-based, and biodegradable, but please don't put them down the toilet.
Embracing the Adventure with Wheelchair Travel Tips
I hope these wheelchair travel tips are helpful and you've got some new ideas. It's great to be out travelling together again. When you can bring a few lightweight home comforts with you it makes it so much more enjoyable. Everyone deserves to be able to travel independently and after the last few years we've had, many people have been stuck indoors for long periods.
Here's a summary in a table:
| Travel Tip | Product | Description | Link |
| --- | --- | --- | --- |
| Hydration | The Hydrant Water Bottle | An easy-to-use drinking aid for bed and travel use | Link |
| Comfortable Transfers | Buckingham Bed and Chair Raisers | Helps raise the bed for comfortable transfers | Link |
| Carrying Personal Items | Trabasack Curve | A versatile bag that can be used as a lap tray | Link |
| Drinking on the Go | Handsteady Cup | Lightweight adaptive cups for easy drinking | Link |
| Eco-friendly Dining | Bamboo Straws and Knork Eco-friendly Fork and Spoon Set | Reusable straws and lightweight cutlery for meals on the move | Link |
| Good Night's Sleep | Blox Earplugs and Blacknight Luxury Blackout Sleeping Mask | Essential items for a peaceful sleep in a hotel room | Link |
| Staying Clean | No Rinse Shower Cap Freshwipes and Freshwipes Anti-Bacterial Body Wipes | Quick and easy washing solutions while travelling | Link |
| Train Travel | Passenger Assistance App and Disabled Persons Railcard | Booking assistance and saving on train travel | Link |
| Accessing Toilets | Genuine Brass RADAR Key | Quick access to disabled toilets while travelling and at train stations | Link |
Here are some more of our photos and bigger ones, with a soundtrack https://vm.tiktok.com/ZGJb9PJCh/
Safe travels!