As many of you will know, at the end of last year we launched a Disability Horizons Shop. But you might not be aware that Duncan, the co-founder of the innovative Trabasack wheelchair lap tray, is at the helm of the store, working with reliable and trusted suppliers to deliver our wide product selection.
Find out more about the family behind the successful Trabasack, two of whom are disabled, as well as working with Disability Horizons on our new shop.
Can you tell Disability Horizons readers about yourself, your background and family?
Strictly speaking, I am a scientist as I did a degree in genetics! But I never actually worked in the field.
Straight after university, I went travelling for a year. On returning to my home town, I took a job at the local council housing department for some instant money. But I ended up buying a house in the area and staying for seven years.
There was no work in 'genetics' in Gt Yarmouth! So I went on to work in welfare rights, housing advice, homelessness and conducting research for local housing policy.
I didn't realise it at the time that this grounding would be so useful later down the line when working with disability products.
It wasn't until I met my wife six years after university that Trabasack became my career and focus.
How was the Trabasack lap tray and bag born and what did creating the design involve?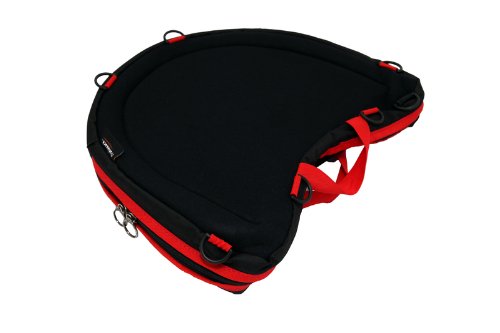 My wife Clare has a spinal injury from a car accident and is tetraplegic, so uses a wheelchair. As any wheelchair user will know, having a lap tray and wheelchair bag is incredibly useful.
But she couldn't find anything that suited. So she decided to invent her own. At first, she wanted to create a fold-out table, similar to what you get in aeroplane seats in the front row.
Having got a small grant to make it, she used clamps, rods and metal trays to create the design. But she soon realised that both the materials and fold-down concept weren't versatile enough for the many different types of wheelchairs.
She abandoned that and went for something more like the design you see today – a lap tray that's curved to fit around the user and can also be used as a bag for keeping useful items close to hand.
With the new design in mind, Clare created the first Trabasack with a Jacob's cracker box lid and materials using her sewing machine!
What made you decide to turn the design into a business and sell the Trabasack.
We'd had initial positive feedback, so after we realised that it was useful and that there wasn't anything similar available, we decided to make some more to see what happened. This time we used a local upholstery company to make them for us.
Over the years we have been to Naidex many times and been impressed by other small companies, such as Care Designs, who are a husband and wife team creating good quality products.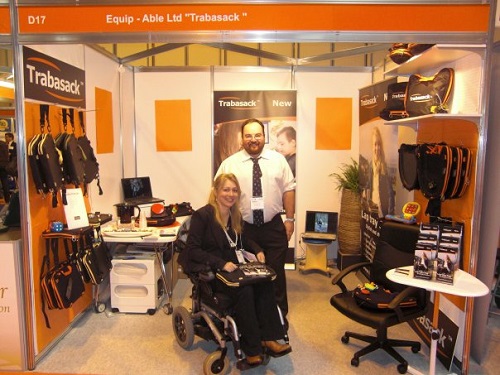 So, after watching too many episodes of Dragon's Den, we decided there might be a business. We applied to Unltd, a charity for social entrepreneurs, for funding. We were supported by mentors and awarded financial help to create a business.
How has your career to date and the experiences your family have had shaped Trabasack?
Our first son is also disabled; he has epilepsy (Dravet Syndrome) and a movement disorder. So this invention became essential not only for Clare but our son too.
We never used his big fixed tray because it was too heavy and dangerous when he had a seizure. So he got the first-ever Trabasack prototype.
Our personal experiences are key to Trabasack as a product and company. We really know and understand people buying a Trabasack as we use them everyday ourselves.
In addition to family life, my experience of meeting disabled people when I worked in welfare rights has been invaluable. I did lots of Disability Living Allowance and Incapacity Benefit forms in people's homes and I met a lot of different disabled people.
This helped us to clearly see the need for our product for children and adults with lots of varying needs.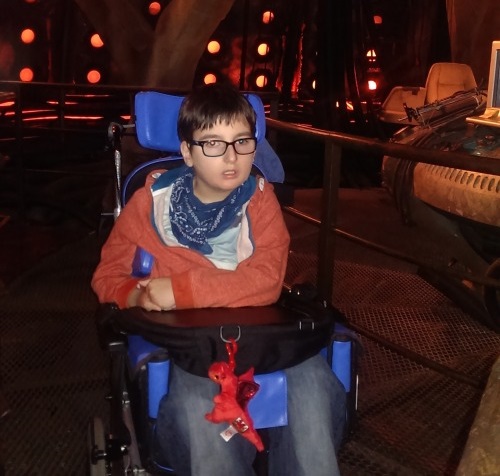 Tell us what makes the Trabasack design unique and how the range of models differ?
The original curve design of the Trabasack also comes as 'connect' option. The Curve Connect has a fabric surface that is velcro ready so that you can attach a phone or tablet to it easily.
This is particularly useful for people who drop things or have spasms or involuntary movements.
It is very popular with children (and parents!) because toys and gaming devices can be attached whilst travelling or moving around without fear of losing them or dropping them.
Microsoft even used our Connect Curve in a video with disabled US comedian Zac Anner to advertise the Xbox Accessible Controller for disabled gamers.
The Mini lap tray and the Mini Connect are A4 size Trabasacks for people who want a bag with a less eye-catching shape.
The Trabasack Max is our luxury laptop lap case. It's as big as we think we can make one while still being comfortable on the lap. It is popular with people working in people's homes.
What were people's reactions to the first Trabasack designs?
When our son first went to his specialist nursery school with a Trabasack, we had a lot of positive comments. In fact, the staff wanted Clare to make five more!
We took the first 200 Trabasacks to Naidex in 2009 and sold 100 over three days. After that, we met Simon from Buckingham Healthcare, who helped us move our manufacturing from Coventry to China, which has helped to bring manufacturing costs down so that we can sell via other retailers.
The Trabasack also won an award at the British Healthcare Trade Association that year, a glamorous awards night with Ade Adepitan and Angela Rippon!
What made you decide to run the Disability Horizons Shop with us?
Over the past 10 years, I have met a lot of people in the disability and healthcare community and have worked with many different people and organisations.
I knew nothing about business when I started our company, but I have learned that you have to keep trying new things and working with people who have good intentions. You have to trust people and look for opportunities.
I have also found that the retail industry can be quite ruthless and cutthroat, and there is a lack of people with real lived experience with the products.
Disability Horizons has a well-deserved reputation for integrity and honesty. It is run from the ground up by people who are actually disabled or have a personal experience of disability.
Our ethoses and ambitions are well aligned. Disability Horizons has a real social mission and a genuine desire to help disabled people live as they choose. But for the magazine and the team behind it to continue, it has to be self-sustaining and generate an income to cover its costs.
Trabasack is a social enterprise that we believe can assist in inclusion for disabled people. We have benefited from grants in the past, but to have a long-term future, we need to generate our own money.
Coming together means that we can both reach more disabled people and help them to find products that truly solve problems in their lives.
What makes the Disability Horizons Shop unique and why should people use it?

The Disability Horizons Shop is led by its community of disabled people, as well as all of our combined experiences with products and suppliers.
Many of the companies currently listed on our site are ones that we have met and worked with many times over the years.
We only choose companies that put quality and service first, and that are making products that actually help and will last.
We listen to the Disability Horizons community's opinions on products, and aim to stock items that we know really work, even if they're niche.
We also want to become a platform for small or new retailers and designers to showcase their products, with a particular focus on disabled entrepreneurs.
If you have an idea for a product you think we should sell or are a disabled entrepreneur yourself, contact me via the Disability Horizons contact form.
In the future, we hope to explore 'social enterprise' status, with the aim of employing more people from our disabled community in the running of the shop.
What do you think are important for any disabled person to keep in mind when buying a disability aid/product?
1. Try before you buy
Everyone is different, so checking that a product will actually work for you before handing over your cash is important.
If you're buying online, check the returns policy so that you don't get caught out. On the Disability Horizons Shop, we will refund any product you return, without question. You will only have to pay the postage cost to order and return it. All we ask is that you return it in a reasonable condition wherever possible.
We'll also be showcasing lots of the products we sell at Naidex if you want to come along and try anything.
2. Listen to others 
Buy from companies that are recommended by your friends and family. You can also get suggestions from relevant support groups, charities or organisations.
If you've seen something you like, why not ask on social media groups, such as the DHorzions Tribe, to check what other people's experiences have been.
3. Look for disabled entrepreneurs
Choose products that have been created to meet the needs of the inventor and solve a problem.
For example, the S'up spoon, Hydrant drinking aids and the EasyTravelseat were all created because the designer couldn't find something available to meet their own needs.
4. Check standards
Lastly, make sure the product adheres to British safety standards. There are many products available online that are sent directly from China and certainly do not conform to UK safety standards.
Some are cheap fakes or are sold by shell companies that then disappear when you try to return them. Make sure you know who you're ordering from and that it's a reputable company.
What should inventors do to take disabled people into consideration when designing and selling products?
First of all, involve disabled people in the early testing and design stage, before the product is mass-produced.
I'd suggest taking it to shows, such as Naidex, or sending free samples out so that you can gather feedback.
A good example of this practice was Simon from Version 22 who took his prototype Nimble one-finger cutter to Naidex and found 70 expert disabled 'testers' to complete an evaluation before he decided on the final design.
They should also think about the accessibility, both with websites and physical outlets. You don't want to put barriers to buying in front of people.
We send Trabasacks to all disability living centres (although sadly many have now closed) and are currently offering demonstration products to wheelchair service centres.
I'd also suggest looking for a mentor. I myself am a mentor for people who have applied to Unltd and who are manufacturing for disabled people or are setting up a social venture.
If you have an idea or want some advice do get in touch via the shop email address – shop@disabilityhorizons.com.
Also, if you sell a product or have a recommendation for something you would like to see us stock, contact me via the Disability Horizons contact form.
By Disability Horizons
The post The family behind the innovative Trabasack wheelchair lap tray and bag appeared first on Disability Horizons.