The Ultimate Guide to Nail Clippers for Disabled People: Your Table-Top and Long-Handled Solutions
This article dives into the world of nail clippers designed for disabled people. When you have limited mobility or dexterity, keeping your fingernails neatly trimmed can be a real challenge. However having properly groomed nails is important for your hygiene and appearance.
Thankfully, there are specially designed fingernail clippers that make cutting your nails much easier. This article will explain why long fingernails cause problems and how the right tools can help people with disabilities maintain healthy nails. From table-top clippers to long-handled options, we cover it all. Read on to find out how these tools can make your life easier.
Why Nail Care Matters
Nail care is often overlooked but is crucial for hygiene and comfort. Long, jagged fingernails not only look unsightly but can cause a variety of issues. They are prone to catching and tearing, which can be quite painful. Dirt and germs easily build up under long nails, increasing the risk of infection.
Sharp nail edges can also scratch the skin. For people who use wheelchairs or walkers, long nails get in the way and can lead to problems with mobility devices. Keeping nails trimmed is an important part of personal hygiene and self-care. For disabled people, using standard nail clippers can be a challenge. Specialized clippers offer features like long handles and easy grips to assist with various tasks.
Difficulties of Cutting your nails when you are older or disabled
Many people with disabilities have trouble using regular nail clippers. Arthritis, nerve damage, muscle weakness, loss of coordination, and limited range of motion in the hands or fingers make it hard to hold and manipulate small clippers. Older people often have stiff, painful joints as well. Without the proper strength and dexterity, clipping nails can become frustrating or even impossible. The risk of cutting the skin is also greater when you lack precision and control. Thankfully, specialised products are available.
What Makes a Good Nail Clipper for Disabled or Older People?
A good nail clipper should have an ergonomic design and non-slip features. Look for clippers that offer leverage and strength for easy clipping.
---
How Do Table-Top Nail Clippers Work?
Table-top nail clippers are mounted on a plastic base with non-slip feet. They're designed to assist those with limited mobility. Just place them on a table, and you're good to go. They are a great aid for those who need extra stability.
At Disability Horizons Shop we sell two types of Table Top Nail Clippers:
Comparing Table-Top Nail Clippers: One-Handed vs. Peta Easi-Grip
Table-top nail clippers are designed to make nail care easier for those with limited mobility. Let's take a closer look at two popular options: the One-Handed Nail Clipper and the Peta Easi-Grip Table-Top Nail Clippers.
| Feature | One-Handed Nail Clipper | Peta Easi-Grip Table-Top Clippers |
| --- | --- | --- |
| Material | Eco-compostable plastic, Stainless Steel | PVC, Stainless Steel |
| Made In | UK (actual metal clippers from China) | China |
| Base Size | Larger deeper base for more leverage | Smaller, flat base with non-slip pads |
| Ease of Use | Easier to Push larger Handle | Standard Handle |
| Stability | Excellent | Good |
| VAT Exempt for disabled people | Yes | Yes |
Material: Compostable Corn Plastic, Stainless Steel, Made in the UK
Features: This clipper has a larger base for added stability and an easier-to-push handle, making it user-friendly. It's also made for a specialist eco-plastic, aligning with eco-friendly values.
Material: Stainless Steel, plastic
Features: This clipper has a standard-sized base and handle. The stainless steel material ensures durability and longevity.
Both clippers are VAT-exempt, so you can save money if you're eligible. The One-Handed Nail Clipper offers a larger base and an easier-to-push handle, making it a great choice for those who need extra stability and ease of use. On the other hand, the Peta Easi-Grip offers a durable stainless steel build. Choose based on your specific needs.
 What Are Long-Handled Nail Clippers?
Long-handled nail clippers offer extended reach for toes and limbs. They are specifically designed for people with limited mobility. Long-handled toenail scissors can be a game-changer for those who find it hard to bend.
Material: Stainless Steel and rubberised handles for better grip
Features: Designed for those who have difficulty bending, this clipper offers a long handle for easier reach. The stainless steel material ensures durability.
---
The Peta Easi Care Nail Set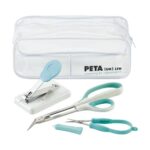 The Peta Easi-Grip Nail Care Set is a comprehensive kit designed to simplify nail care. It includes three main tools: mini easy-grip scissors, tabletop nail clippers, and long-reach toenail cutters. Priced at £18.95, this set is perfect for those who struggle with dexterity or have limited mobility.
Mini Easy-Grip Scissors
Design: Light, compact, self-opening scissors.
Handle: Features a plastic loop for easy grip.
Use: Ideal for trimming nails and even for sewing tasks.
Additional Feature: A loop at the top allows you to attach a cord, preventing drops.
Tabletop Nail Clippers
Design: Clippers mounted on a non-slip base.
Handle: Large moulded plastic piece for easy pressing.
Use: Suitable for both fingernails and toenails.
Additional Feature: Rubber feet on the base for stability.
Long-Reach Toenail Cutters
Design: Long-handled scissors.
Handle: Comfortable grip with an extended shank.
Use: Designed for those who can't easily reach their toes.
How It Helps
Ease of Use: The design of each tool accommodates those with limited hand strength or dexterity issues. Also makes an excellent fingernail clipper for disabled people.
Versatility: The set is versatile enough for various nail care needs.
Accessibility: The long-reach and tabletop designs make nail care accessible for everyone.
---
What Are the Benefits of Stainless Steel Blades?
Stainless steel blades offer durability and precision. They are easy to clean and maintain, making them a long-lasting option for nail care.
How Can VAT Exemption Assist You?
If you're eligible, VAT exemption can make these essential bathroom tools more affordable. Check the VAT-exempt box at checkout to take advantage of this offer. If you would like more info about how the scheme works click here.
---
Other Nail Care Products
Nail Brush with Suction Base
Design: A standard nail brush mounted on a suction base.
Material: Durable bristles and a sturdy plastic base.
Use: Ideal for cleaning nails without requiring a firm grip on the brush.
Additional Feature: The suction base sticks to sinks and countertops, providing stability during use.
This nail brush complements the Peta Easi-Grip Nail Care Set by offering a cleaning solution post-trimming. Its suction base ensures it stays put, making it a great choice for those who may struggle with holding a regular nail brush. It adds the finishing touch to your nail care routine.
Design: A bottle containing 60 capsules.
Ingredients: Rich in biotin, zinc, and other essential nutrients.
Use: Supports the health of hair, skin, and nails.
Additional Feature: Easy-to-swallow capsules, suitable for daily use.
This supplement is a holistic approach to nail care, going beyond external tools. It's packed with essential nutrients like biotin and zinc that promote healthy nails, as well as hair and skin. Just two capsules a day can offer noticeable improvements, making it a valuable addition to your daily care routine. Currently on Special Offer 180 capsules for £12.05
Design: Compact and robust.
Material: Made of heavy-duty stainless steel.
Use: Suitable for both fingernails and toenails.
Price: At just £1.99, it's a budget-friendly option.
These clippers are a no-frills, effective solution for nail care. Made of durable stainless steel, they're designed to last. Despite their heavy-duty nature, they come at a low cost, making them accessible for anyone on a budget. Ideal for those who want a straightforward, reliable tool for nail maintenance. Click here to buy.
What to do if you can't cut your nails?
Finding a Registered Chiropodist in the UK
You may be able to find a carer or relative to help but if you need professional chiropody, here is a reference guide;
The Institute of Chiropodists and Podiatrists
The Institute of Chiropodists and Podiatrists offers a "Find a Practitioner" tool. Look for the HCPC registration number starting with CH to ensure they are registered.
Health and Care Professions Council (HCPC)
The HCPC is the UK's regulatory body for chiropodists. They don't offer a search tool, but you can verify a practitioner's registration through their "Check the Register" service.
NHS Service Search
The NHS service search allows you to find chiropodists by location in England. It's a handy tool for finding local registered practitioners.
Royal College of Podiatry
The Royal College of Podiatry offers a search tool for podiatrists, many of whom are also registered chiropodists.
GOV.UK
GOV.The UK provides info on the registration process and requirements, although it doesn't offer a search tool.
Finding a registered chiropodist in the UK is crucial for quality foot care. These resources make the search easier, helping you find a qualified practitioner for your needs.
Final Tips for Nail Care
Choose the Right Clipper: Consider your needs and limitations.
Material Matters: Opt for stainless steel for durability.
Handle and Grip: Pick one that offers control and comfort.
VAT Exemption: Don't forget to check this at checkout if eligible.
Keeping nails trimmed is important for hygiene and safety
Arthritis and loss of dexterity make nail clipping difficult
Adaptive clippers have features like lever action, long handles, and angled heads
Tabletop clippers for hands-free trimming
The right tools allow people with disabilities to trim their nails and save money on private chiropody or care
Well-groomed nails boost self-esteem and quality of life
---
That wraps up our comprehensive guide on nail clippers for disabled people. With the right tools, nail care doesn't have to be a chore. Choose wisely and take control of your grooming routine.
FAQ NAIL CUTTING
How to Cut Toenails with Limited Mobility?
Use long-handled toenail clippers or table-top clippers. These tools are designed to assist people with limited mobility.
What Can You Use Instead of Nail Clippers?
You can use nail scissors or a nail file. Do not use a knife or blade.
How to Trim Nails Without Clippers?
Use a nail file for a smooth finish or nail scissors for a quick cut.
Should I Borrow a Nail Clipper?
It's not recommended due to hygiene reasons. Always use your own grooming tools.
How to Cut Toenails If You Can't Bend?
Long-handled toenail clippers or scissors can help. They offer extended reach.
How to Cut Hard Toenails for Elderly or Older People?
Soak feet in warm water to soften nails. Use heavy-duty clippers designed for hard nails.
Cutting Toenails After Hip Replacement?
Consult your healthcare provider for personalised advice. Specialised tools such as long-reach clippers may help.
Why Is It Hard to Clip Toenails?
Nails may be too hard or thick. Soaking can help, as can specialised heavy-duty clippers.
Can I Carry a Nail Cutter in Flight?
Check airline regulations. Generally, small nail clippers are allowed in checked luggage.
Is It OK to Share Nail Files?
Not recommended. Sharing grooming tools can spread infection.
Do Hotels Have Fingernail Clippers?
Some might, but it's best to bring your own for hygiene reasons.
Using Scissors to Trim Nails?
Yes, you can use scissors if clippers are not available. Use sharp, clean scissors for best results.
Can You Cut Toenails with Scissors?
Yes, but use specialized toenail scissors for better control and safety.
What to Use to Cut Nails at Home?
Nail clippers, nail scissors, or a nail file are all good options.
Cut or File Fingernails?
Both are effective. Cutting is quicker, filing offers a smoother finish.
Best Tool for Nail Trimming?
Ergonomic nail clippers or long-handled clippers are generally best for ease and precision.
Can I Trim Nails with Scissors?
Yes, but ensure the scissors are sharp and clean.
Best Way to Cut Off Nails?
Use sharp nail clippers or scissors and cut straight across, then round the tips.
Is It OK to Cut Nails at Home?
Just ensure you use clean, sharp tools.
No Nail Clippers, What to Do?
Use a nail file or scissors as an alternative.
How to Use Fingernail Clippers?
Hold the clipper firmly, place it over the nail and press down on the lever.
Are Nail Salons Allowed to Cut Cuticles?
Yes, but ensure they follow proper hygiene practices.
Who Invented the Fingernail Clipper?
The modern design was patented in 1875 by Valentine Fogerty.
Fingernail Clippers for Disabled?
Specialized clippers with long handles or table-top designs are available.
Who Can Cut Diabetic Fingernails?
A healthcare provider or a specialised chiropody service is recommended, as improper cutting can lead to complications.
Toenail Clippers for Disabled People?
Long-handled or table-top clippers are designed for those with limited mobility.
Best Fingernail Clippers?
Look for an ergonomic design, sharp blades, and a comfortable grip.
Peta UK Nail Clippers?
They offer ergonomic design and are a good choice for people with limited mobility.
Do Long-Handled Toenail Scissors Exist?
Yes, they are designed for people who have trouble bending.
Buying for Someone Else, VAT Relief?
Yes, you can claim VAT relief if the product is for someone eligible. Check our guide here.