Tending to certain bathroom needs, such as toileting, showering and bathing, can be difficult if you have a disability or mobility impairments. However, there are many accessible bathroom aids to give you comfort and support when carrying out these personal tasks.
Here, we share 7 accessible bathroom aids on the Disability Horizons Shop that will give you greater independence and dignity.
This long-handled bath sponge is a simple yet useful bathing aid for people with limited mobility and painful joint conditions.
Helping you to wash areas that are otherwise difficult to reach, the 42.5cm handle is easy to grip and has enough length to allow easy cleaning of those hard-to-reach areas.
After you have finished bathing, you can use the integrated loop at the end of the handle to hang up your sponge to dry.
In addition to the long-handled bath sponge, we also sell a long-handled foot brush and sponge and a long-handled hair wash brush. Replacement sponges are also available.
Head to the Disability Horizons Shop to buy this long-handled bath sponge. 
The Buckingham Easywipe has been specially designed to help those with painful joint conditions and limited movement by offering an extended, hygienic toilet aid for wiping with ease.
The pocket-sized Easywipe is the smallest in the Easywipe range and the most compact toilet aid on the market.
It can fold down to only 16cm in length, meaning it can be carried with you everywhere and anywhere discreetly and with ease.
The Easywipe wiper provides 38cm/15" of extended reach for wiping after using the toilet, ensuring a clean, comfortable wipe without having to stretch, twist or strain.
As well as this product, there is also the standard Easywipe bottom wiper and the Easywipe folding bottom wiper.
Buy the Easywipe pocket-size bottom wiper on the Disability Horizons Shop. UK VAT exemption is available for eligible disabled customers on all Easywipe products.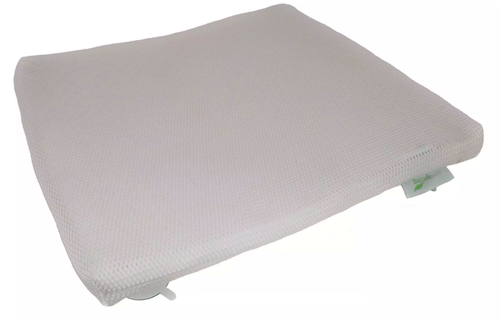 This is an ultra-slim pressure relief bath cushion, suitable for full submersion in water. It can be used in the bath or for bath lifts, bath seats and shower chairs.
The bath cushion offers extra comfort and helps lower the risk of you developing nasty pressure ulcers.
The XD spacer fabric contains thousands of micro-springs providing support similar to when floating in water. It is also 100% machine washable.
Complete with a strap at the back and a set of four large suction pads, the pressure relief bath cushion can be fitted to a bath or shower seat when in use.
When finished, simply use your finger to lift up the suction cups and hang your cushion up to drip dry.
Check out the Airospring pressure relief bath cushion on the Disability Horizons Shop. UK VAT exemption is available for qualifying conditions.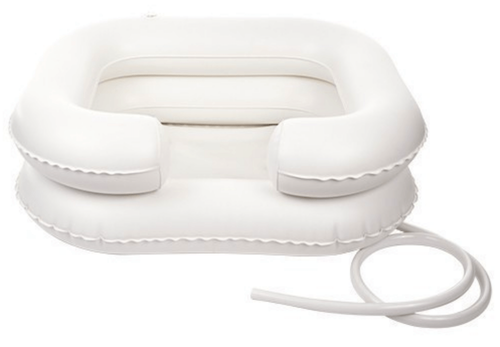 If you have to stay in bed most of the time or have limited access to a bath or shower due to poor mobility, chronic pain and/or fatigue, this inflatable shower basin is a must-have, enabling you to wash your hair in bed.
The basin provides good support for your head and shoulders to ensure a comfortable experience, with no stress or strain. It also has bulky walls that prevent splashes and leakage.
It inflates with ease thanks to two spilt air chambers and simply deflates so that it can be stored easily.
Buy this inflatable shower basin on the Disability Horizons Shop.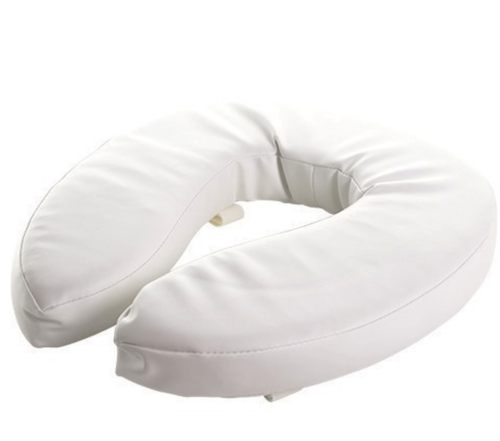 If you have limited mobility or joint pain, this soft raised toilet seat provides comfortable yet firm support enabling you to sit on the toilet without pain.
The toilet seat is available in two sizes – 2" or 4" – and the extra height makes sitting and standing after use easier.
The universal design means it will fit most toilet seats and easy-to-use Velcro straps allow you to easily attach and remove it.
Go to the Disability Horizons Shop to purchase this soft raised toilet seat.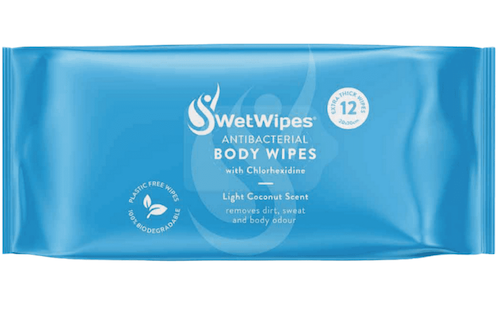 If you find it difficult to shower or are unable to do so, it can lead to sores and skin problems, as well as poor hygiene. FreshWipes antibacterial body wipes are an ideal solution.
Unlike general body wipes, FreshWipes are gentle and super-sized, designed for full body washes to help you keep clean.
If you have a chronic condition, such as chronic fatigue syndrome, ME, MS, or mobility issues, FreshWipes can help take the pressure off having a shower, and provide a safe way of managing your personal hygiene.
FreshWipes would also work well if you need to be bed washed. These anti-bacterial wipes will help to eradicate odour problems and are great for cleaning skin folds.
Keen travellers, disabled or not, would benefit from FreshWipes, as they are a quick and easy way to freshen up during a long car journey or flight.
Maybe you're visiting a venue or a hotel with poor bathroom facilities? In that case, FreshWipes would enable you to feel fresh and clean.
Available in three scents – coconut, grapefruit and unscented (coming soon) – the FreshWipes can be bought as a single pack of 12 or as a bundle of 5 packs, 10 packs or 36 packs.
You can read our writer Lucy's review of FreshWipes having used them for a number of years. 
Visit the Disability Horizons Shop to buy FreshWipes and find out more about its ingredients and uses.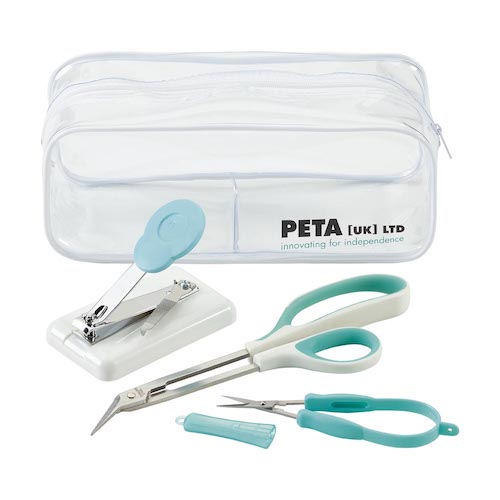 This fantastic clipper and scissor set that is perfect for keeping at home or in your handbag to help you take care of your nails.
Each Peta Easi-Grip nail care set includes:
Peta mini Easi-Grip scissors – lightweight, compact, self-opening scissors – designed specifically for anyone with joint conditions.
Peta tabletop Easi-Grip nail clippers – non-slip, mounted nail clippers for use on tabletops and work surfaces – aids anyone with limited dexterity and weakness of joints to cut and trim fingernails at tabletop level.
Peta long-reach Easi-Grip toenail cutters – comfortable, safe alternative to traditional nail clippers and scissors – the extended, long-reach shank eliminates the need to bend or stretch uncomfortably when trimming toenails.
To find out more about the Peta Easi-Grip nail care set, go to the Disability Horizons Shop. It includes UK VAT exemptions for eligible disabled people.  
Check out our full range of bathroom aids on the Disability Horizons Shop. 
By Disability Horizons Shop
More on Disability Horizons…