Finding that perfect outfit or searching for adaptive clothing that is both comfortable and fashionable can be tricky when you're disabled. Also, being able to dress independently and with dignity can be challenging if you have poor motor skills or dexterity issues.
Thankfully, the Disability Horizons Shop has the solution with its collection of adaptive clothing brands, all of which have discreet, accessible fastenings, wider openings and wheelchair-friendly designs.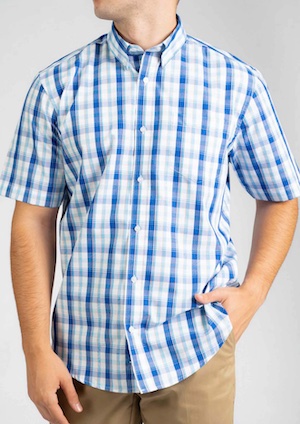 The Able Label is a new clothing retailer specialising in stylish and discreet adaptive clothing that not only looks good but is designed to make dressing easier.
The Able Label range is designed to help people with a variety of physical and cognitive needs, whilst also encouraging self-confidence and independence. The clothes feature quality fabrics, discreet adaptive designs, innovative fastenings and much more.
We have 31 products for both men and women. We have a range of stylish shirts, trendy trousers and perfect PJ sets that have been adapted and made comfortable for your needs.
Our most popular items in The Able Lable collection include:
We've also just launched the new range of Men's Harvey short sleeve front-velcro-fastening adaptive shirts, which are available in four colours – coral red, ruby red, sky blue and med blue.
Also new to The Able Lable range are men's smart trousers, women's skirts and clip-on ties – to name a few.
VAT exemption is available on the full range of The Able Lable collection for customers with qualifying conditions.  
Check out The Able Lable collection in full on the Disability Horizons Shop.
Optivus is the first streetwear-inspired, adapted clothing range entirely dedicated to people with physical disabilities. It has been made with versatility in mind, and a commitment to be comfortable, functional, and affordable, yet uplift the user's spirit.
Optivus clothes are designed to make life easier and dressing more accessible for anyone wearing them and the people who support them – making dressing fun and less stressful, creating a memory. The product collection – clothing, shoes, and accessories – is made with quality, long-lasting materials that are trendy and stylish.
We have nine adaptive products for you to choose from for adults and children. These include wheelchair jeans, wheelchair joggers, an adaptive hoodie and jackets, an adaptive unisex flannel shirt and even an accessible wheelchair bag.
The key access features across all of the products are zips and velcro fastenings instead of buttons, high waistbands on trousers, wider openings on the hoodie and jackets and zip access on sleeves.
Head to the Disability Horizons Shop to browse the full Optivus collection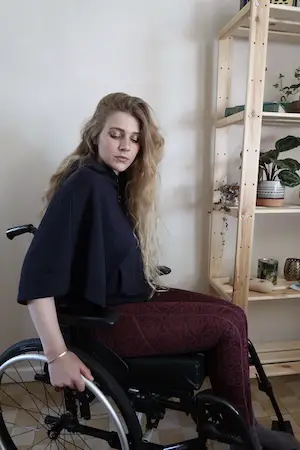 Designed and developed by fashion graduate Holly Yendell, the L.able unisex jersey cape aims to bring style and comfort to wheelchair users.
The L.able jersey cape is waist-height, making it perfect for the seated position as it does not hang low or restrict your upper legs. It is a unisex jersey and looks stylish on both men and women.
It can be worn sleeveless for extra movement or like a fitted hoodie, thanks to its easy-press snap fastenings that close the sleeves. The jersey cape also features an adjustable drawstring hood to keep you warm and snug.
The L.able unisex jersey cape is available in a wide range of colour choices and sizes from small to extra large. It is also machine washable.
Rated 5-stars by Disability Horizons customers, this jersey is ideal for a disabled person looking for stylish adaptable clothing that is both practical and fashionable. VAT exemption is available for eligible customers.
Head to the Disability Horizons Shop to browse the sizes and colours of the L.able unisex jersey cape.
Also, check out our interview with L.able founder and fashion designer, Holly Yendell.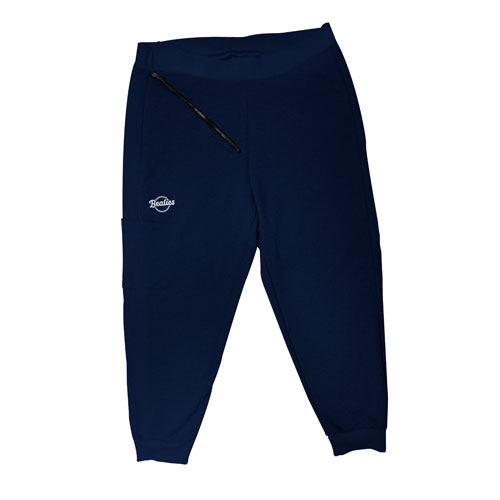 Finding comfortable and practical trousers if you're disabled can be challenging, especially if you're a wheelchair user or rely on self-catheterisation.
The Bealies wheelchair joggers are specially designed for wheelchair users with easy dress Velcro fastenings.
The unique Bealies design ensures full coverage when sitting and transferring and features a functional front-opening zip, which enables easy, clean self-catheterising.
If you're disabled or buying for a disabled person, you can tick the "VAT Exemption" box and buy these for £55.
Find out more about the Bealies wheelchair joggers and browse the colours and sizes by visiting the Disability Horizons Shop.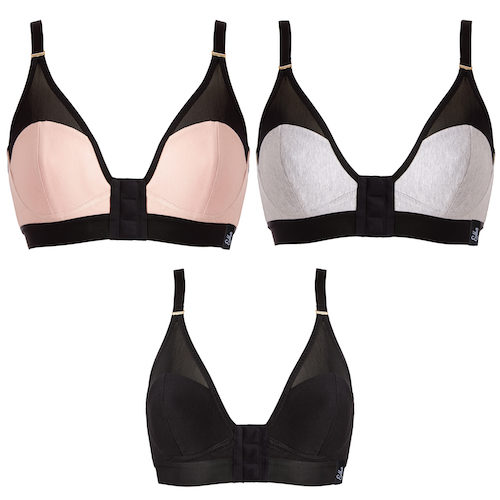 This stylish Elba Essential Bra, which comes in three different colours – black, grey and blush (soft pink) – is an innovative front-fastening bra designed to offer ease of dressing, support and comfort.
It's made from soft cotton and sheer performance mesh and has flexible side boning, making it super comfortable. For a touch of sophistication, the adjustable straps have gold edges.
If you have difficulty dressing because of mobility and/or dexterity issues, then this front-fastening bra is perfect and will make you feel sumptuous too. VAT exemption included for customers with eligible disabilities.
View all of the colour and size options for the Elba easy front fastening bra on the Disability Horizons Shop.
The Seenin children's back-opening zip sleepsuit provides a cosy, comfortable night's sleep for children with disabilities – such as autism or a learning disability.
Thanks to the zip-opening back, the Seenin sleepsuit is ideal to prevent children from wriggling out of their clothes when it's not appropriate. The zip continues down the centre of the back and along the inside leg, for easy opening and access for changes.
The nightwear is created from soft, cotton jersey fabric and you can choose between a footless or footed sleepsuit (up to age 13-14 for the latter), and soles are lined with non-slip gripper fabric.
It is available in a range of colours – navy and red, peach and plum or navy and turquoise – and comes in seven sizes for children between the ages of 3 to 16.
UK VAT exemption is available if your child has a qualifying condition.
Go to the Disability Horizons Shop to treat your child to a Seenin children's back-opening zip sleepsuit. Plus, check out the rest of the Seenin product range available. 
You can also read our interview with Seenin founder Lucy Carr-Seaman.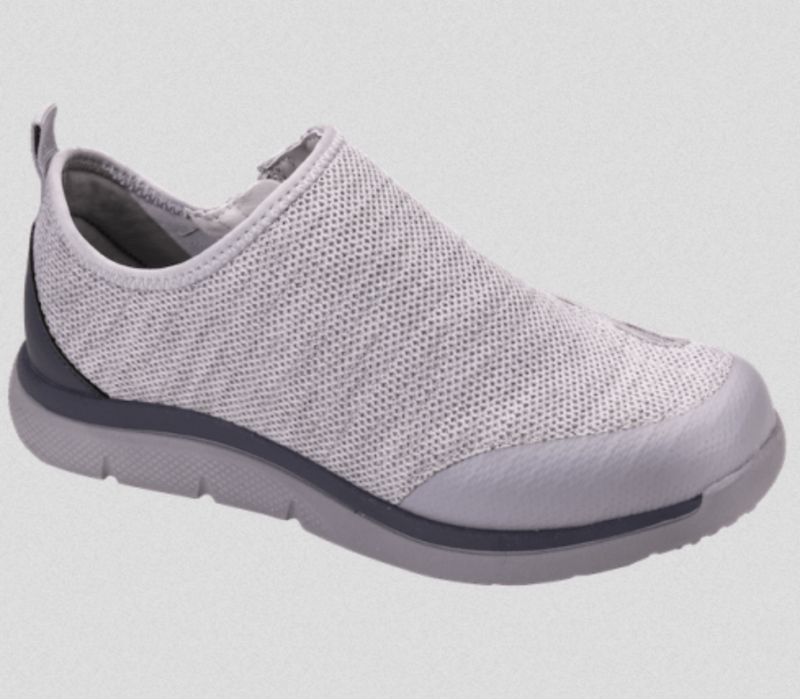 Friendly Shoes are high-quality, functional, comfortable and versatile disability footwear.
The Friendly Shoes collection of adaptive shoes features a large opening as well as wide and generous space for your toes. They also have memory foam insoles and an amazingly lightweight design (some shoes are as light as 300g in the largest size).
All these features make Friendly Shoes great for a wide range of conditions, including diabetes, Parkinson's, multiple sclerosis, cerebral palsy and for people with orthoses and braces.
Here at Disability Horizons, we sell 14 different pairs of Friendly Shoes in men's, women and unisex styles.
If you have an eligible disability or health condition, tick "VAT Exemption" to buy this product at a reduced price.
Head to the Disability Horizons Shop to browse the full range of Friendly Shoes and check out Emma's review of the Friendly Force light grey womens disability footwear.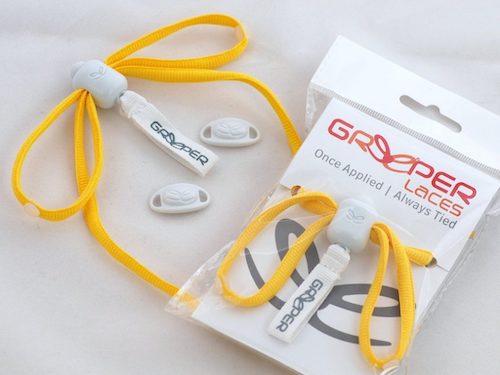 Worrying about tying your shoelaces shouldn't be a consideration when you've got your new favourite sport or activity to practice. With these Greeper sports shoelaces, you no longer have to.
Greepers are award-winning patented shoelaces that simply do not come undone yet can be loosened and tightened with ease.
These adapted sports laces are ideal if you have limited dexterity or motor skills, offering a simple and easy-to-use solution to traditional shoelaces.
They are highly inclusive and have been heralded as the best buy product by Triathlon magazine.
They also have the backing of occupational therapists and physiotherapists and are used by well-known athletes, such as Chrissie Wellington MBE, Rachel Joyce and Tom Lowe, as an alternative to elastic alternatives.
They also provide better support than velcro or elastic laces as they utilise traditional nylon laces and support the feet properly.
What's more, they come in a range of fantastic colours and styles, from our popular, classic, professional black, grey or white to more bold colours such as red, yellow and royal blue (colours subject to availability).
Check out the Greeper sports shoelaces on the Disability Horizons Shop. You can also read Zec Richardson's review on our shop blog.
These are just some of the amazing and innovative adaptive clothing brands available on our site. Check out our full range of adaptive clothes on the Disability Horizons Shop.  
By Disability Horizons 
More on Disability Horizons…