Finding gifts for disabled children this Christmas is all about adapting, being creative and thinking outside the box. Letting kids with disabilities look stylish, have fun and feel comfortable is important for their development and wellbeing.
Here, we share 7 fun, original and imaginative accessible Christmas gifts for disabled children, all of which can be bought on the Disability Horizons Shop.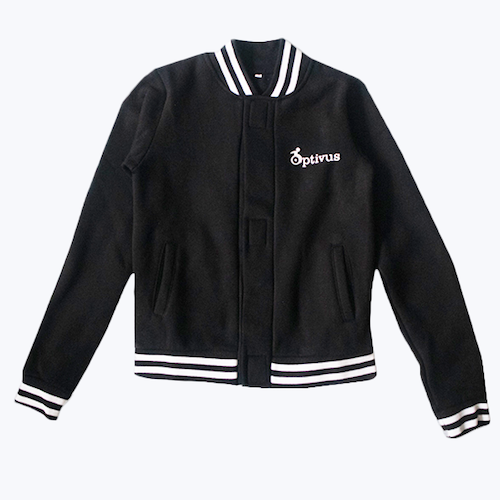 Treat your cool and trendy disabled child this Christmas with this urban-style adaptive jacket for kids. It is combined with velcro and magnets to facilitate self-closing and easy dressing if your child has limited mobility or dexterity issues.
The jacket is black with white stripes on the collar, cuffs and bottom and has the "Optivus" brand logo on the left chest side. There are also two hand pockets at the front.
Sizes range from 8 to 16 but are bigger to give more room for growth. The jacket is made from 100% fleece cotton, which will keep your child toasty and warm in the winter months. 
Buy your child an Optivus kids self-closing adaptive jacket on the Disability Horizons Shop. Also, check out the rest of our Optivus clothing range, which includes a kids zip-up adapted jacket and kids wheelchair jeans. 
The Fidgetbum compression blanket aids children with sensory processing disorders to sleep longer and better at night, making them happier and more playful during the day.
It works by applying gentle pressure to your child that simulates the feeling of a nice, warm, secure hug. This reassures, calms and comforts your child as they sleep.
Many Fidgetbum customers claim to have been able to fully replace the use of medications directly as a result of the weighted blanket.
This is an ideal gift for children with autism and related sensory processing disorders who find it difficult to acclimatise to sleep at night – the pressure applied across the whole of the body and skin brings positive proprioceptive input needed to give the child a sense of where they are and how their body lies/is positioned during sleep.
Head to the Disability Horizons Shop to buy your child a Fidgetbum weighted blanket, which comes in a wide range of sizes to fit toddlers, children and teenagers.
Greeper shoelaces are a unique style of shoelaces that remain constantly tied no matter what conditions they're put under.
The ease of use and simplicity of these laces means that the need to bend and struggle with fastening shoelaces is completely removed.
This makes them ideal for those with painful physical conditions, those with disabilities and people who struggle with dexterity and motor skills.
The Thomas the Tank Engine edition of the Greeper laces features a fun Thomas motif that will really appeal to children.
The innovative stay-tied functionality is ideal for children with autism or additional needs, who need a little extra help with keeping their laces safely tied.
Treat your child this Christmas with the Greeper Thomas the Tank Engine shoelaces by visiting the Disability Horizons Shop.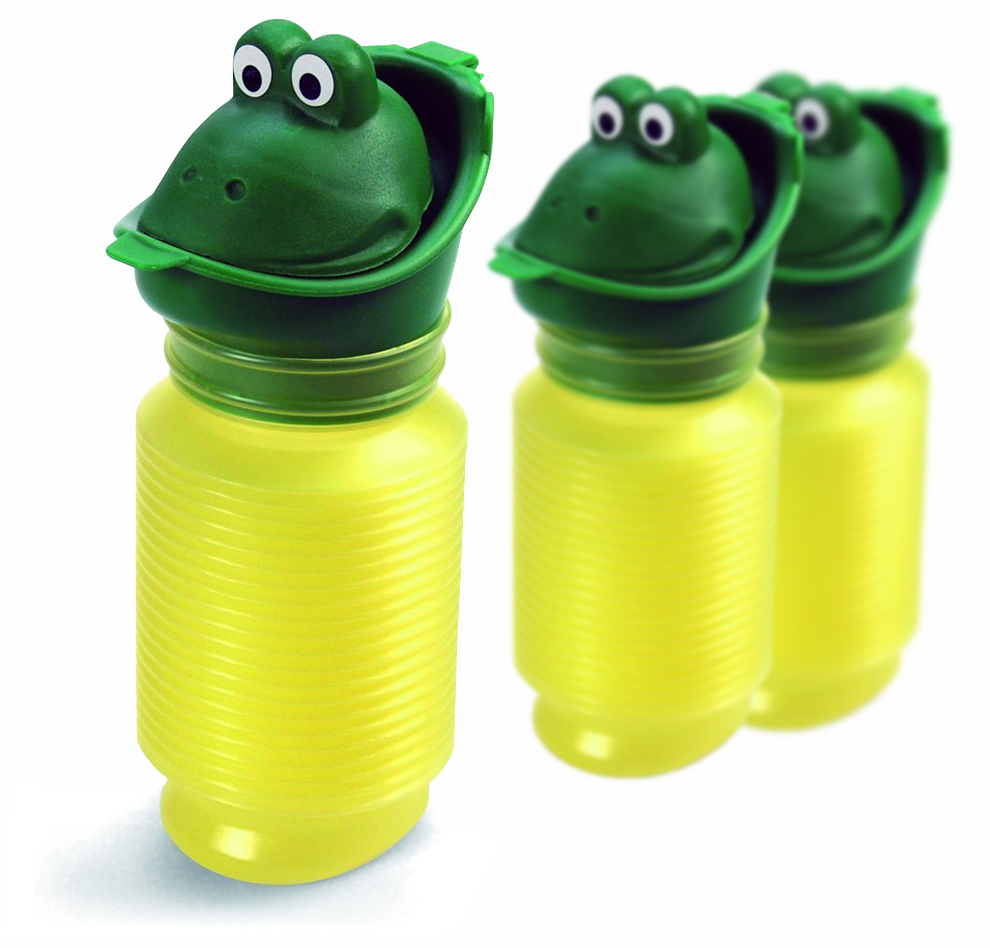 The Uriwell range of portable, personal toilets is an ingenious yet low-tech lifesaver. This pack includes three handy Uriwell portable Happy Pee urinals with a fun and cheery frog design for children.
The fun frog design is specifically designed to appeal to children and give them the enthusiasm and determination to move on from using nappies and graduate to being fully toilet trained.
The Uriwell Happy Pee is packed full of useful features that will make toilet training your child a doddle and also ensure that your little one is never "caught short" whilst travelling or out and about.
The Happy Pee is especially useful for those with children with SEN and autism, who may be learning to toilet-train a little later than expected. If your child has communication delays and struggles to tell you when they need the toilet whilst out and about, it might be the case you find it difficult to find a toilet in good time. 
The Happy Pee can be popped into your bag and used quickly and easily in any location, alleviating some of the stress of toilet-training older children.
Make toilet training fun this Christmas and buy your child a Triple Pack of Uriwell Happy Pee Portable Urinals on the Disability Horizons Shop. You can also purchase a single Happy Pee for £8.95 or a Uriwell Family Pack for £22.95, which includes 1 x blue adult Uriwell, 1 x pink adult Uriwell and 1 x kids Happy Pee Uriwell.
 Biscuit Baking and Welly Walks books for children – £5.99 each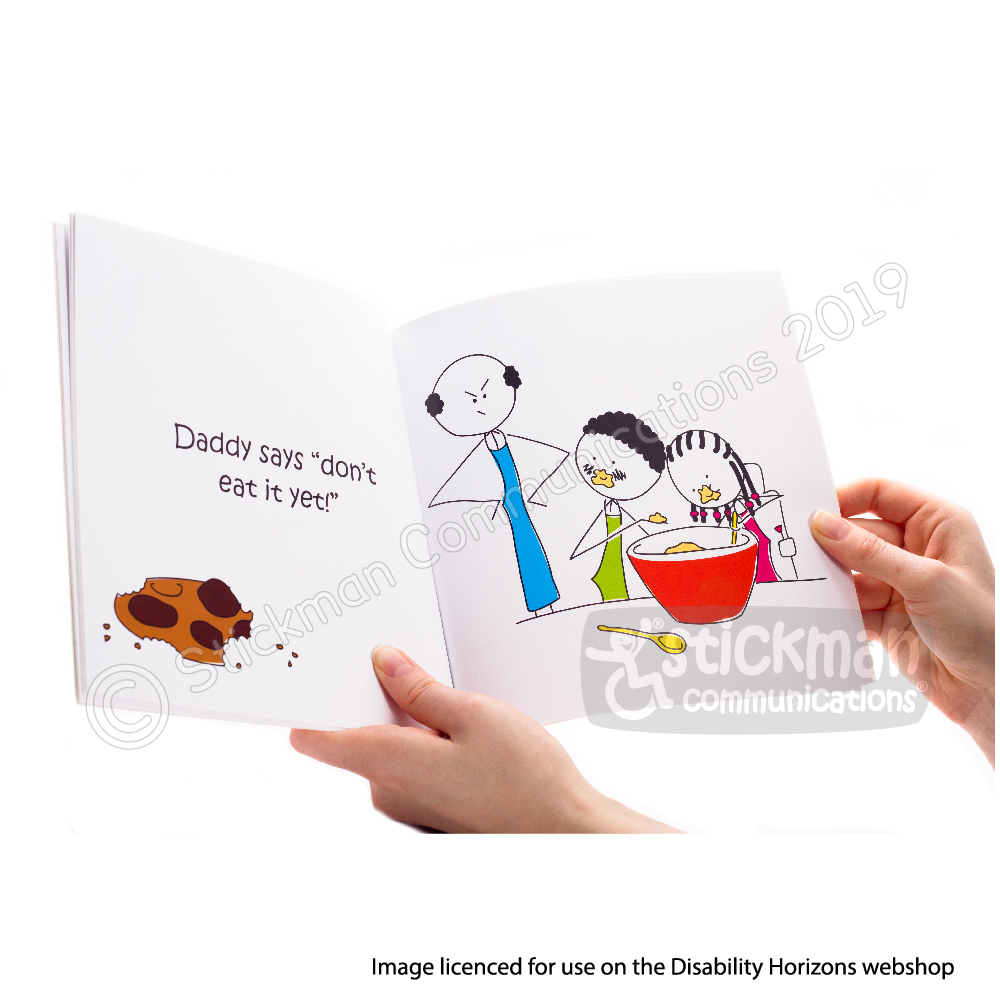 Engage and entertain your children this Christmas with these children's books featuring disabled characters. The stories aim to break down the fear of difference and look past the disability.
Biscuit Baking follows two young children as they bake biscuits with dad and get up to a little mischief on the way.
Welly Walks follows two young children splashing in the puddles. But is mum really too old to play too?
A perfect stocking filler for ages 2 to 5, these simple stories are told with humour, bright stickman pictures and few words.
These books help all who read them – teachers, parents and disabled and non-disabled children alike – look past the wheelchair to see the child.
Each book is sold separately at £5.99 each are are ideal gifts for disabled children.
Buy Biscuit Baking and Welly Walks books for children on the Disability Horizons Shop.
The Seenin children's back-opening zip sleepsuit provides a cosy, comfortable night's sleep for children with disabilities – such as autism or a learning disability.
Thanks to the zip-opening back, the Seenin sleepsuit is ideal to prevent children from wriggling out of their clothes when it's not appropriate. The zip continues down the centre of the back and along the inside leg, for easy opening and access for changes.
The nightwear is created from soft, cotton jersey fabric and you can choose between a footless or footed sleepsuit (up to age 13-14 for the latter), and soles are lined with non-slip gripper fabric.
It is available in a range of colours – navy and red, peach and plum or navy and turquoise – and comes in seven sizes for children between the ages of 3 to 16.
UK VAT exemption is available if your child has a qualifying condition.
Go to the Disability Horizons Shop to treat your child this Christmas to a stylish and practical Seenin children's back-opening zip sleepsuit. Plus, check out the rest of the Seenin product range available.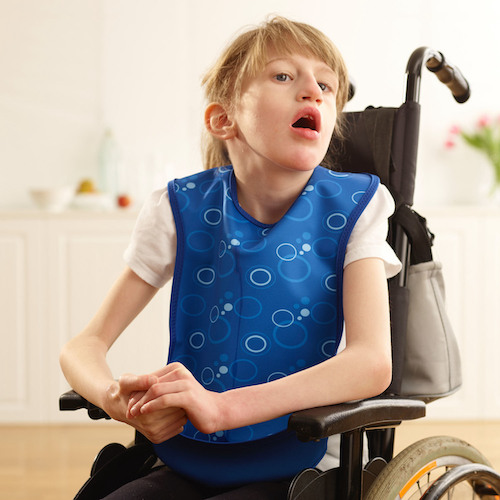 Care Designs' junior tabard-style bibs for children and teenagers offer the best in modern, comfortable and dignified design combined with long-lasting materials.
The designs have a subtle, over-the-shoulder shape, which provides the attractive and dignified look of a tabard but with a short back, making it an easy shape to put on and take off.
The tabards have wide shoulder coverage and are ergonomically shaped on the front to enable free arm movement at mealtimes.
They have long-lasting, sprung steel, snap fasteners, which are reinforced to ensure they stay firmly fixed in place. These allow wide adjustment around the neck to suit most sizes.
This is a fashionable and useful clothing protector that can be a great Christmas gift for your disabled child. The Junior Tabard-style bib comes in three colour options – blue bubbles, pink bubbles and plain blue.
Buy a Junior tabard-style bib on the Disability Horizons Shop.
Disability Horizons Shop Christmas delivery
All of the accessible gifts and products on the list can be bought using credit or debit cards or through PayPal. A lot of the items we sell are also eligible for VAT exemptions if you or the person you're buying for applies.
All orders must be made before Friday 16th December 2022.
We can not guarantee Christmas delivery. If you require guaranteed or special delivery, please email shop@disabilityhorizons.com.
To get more ideas of gifts for disabled children, plus other adaptable products, check out our other Christmas gift guides, which include even more stylish, luxurious, fun, practical and accessible gifts for all abilities.
By Disability Horizons
More on Disability Horizons…