Caron Mcluckie is the designer of the Bealies wheelchair joggers, adaptive clothing with a unique diagonal zip for easy self-catheterisation and a high back waist for better coverage and comfort while seated.
Our writer, Emma Purcell, interviewed Caron Mcluckie about how her disabled son Emile inspired her to create the Bealies wheelchair joggers and the journey she went on to start her business.
Can you tell us about yourself and your background?
I am a 56-year-old mum of 3
three children (Theo, 27, Emile, 20 and Esther, 18). We live in Stockport. For nearly 30 years, I worked as a mental health social worker. I took early retirement in 2022 to launch the business.
We all love music and enjoy seeing live concerts and going to the theatre. I also love red wine and catching up with friends for spa nights away.
Can you tell us about your son Emile's diagnosis/impairment and how it affects him on a daily basis?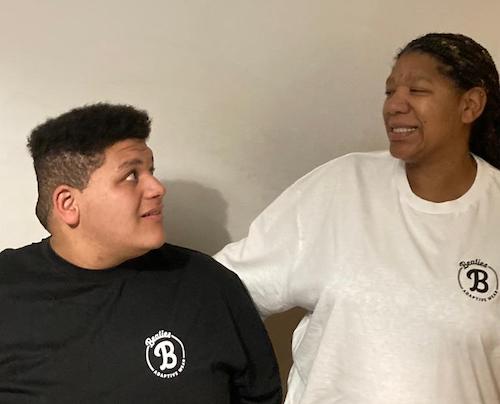 Emile has autism and attended the local special needs school in Stockport. In 2016, he had a stroke out of nowhere whilst out on an errand one Saturday afternoon.
The stroke has left Emile with paralysis and is a full-time wheelchair user. He has no bladder or bowel function and we self-catheterise throughout the day to empty his bladder.
Emile is very independent and attends Seashell Trust College and Cheadle College.
What inspired you to come up with the Bealies wheelchair joggers?
Emile needs to self-catheterise and soon after his stroke, we found that clothes don't fit properly whilst sitting in a wheelchair. Also, Emile likes to wear joggers as they are more comfortable
However, joggers don't have a fly opening that is needed to self-catheterise whilst seated. We experimented by putting zips in the sides but it didn't solve the issue of his bum and lower back showing.
We looked around the adaptive wear market but we couldn't find joggers with a fly opening, a higher back and fashionable!
How do Bealies wheelchair joggers differ from other types of joggers and how did you come up with the name Bealies?
Bealies wheelchair joggers are bespoke trousers that have a diagonal zip to enable clean catheterising whilst seated. They also have a higher back to ensure full coverage.
The name Bealies comes from Emile's nickname "Bealie", which his sister Esther calls him.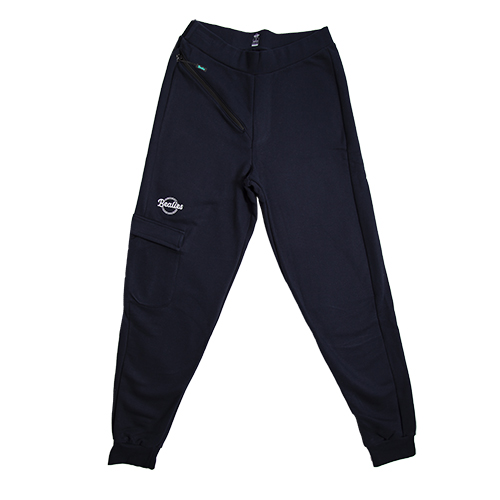 Did you have any challenges along the way in starting your business?
There have been many hurdles. Funding has been difficult as I didn't want to take out a loan, so I carried on working as a social worker to bootstrap the business.
I also ran a crowdfunding campaign to make the first run of wheelchair joggers, which was a great way to raise some funds.
I have learnt not to take rejection personally as you have to chase up emails re-questing information such as market research and people don't call or email you back.
Manufacturing has also been difficult as I wanted the wheelchair joggers to be made in the UK. Sourcing materials and trimmings are difficult as they are made abroad with long lead times and large minimum order quantities.
At present, how do you make, sell and distribute your product?
The wheelchair joggers are made in a factory in Leicester and embroidered/packed in Cheshire. They are sold online, including on the Disability Horizons Shop.
Have you got any new products lined up for the future?
Hoodies and sweatshirts are to be launched later this year and jeans and jeggings are to be launched in early 2023.
What advice would you give to other entrepreneurs?
Just do it! Access all the free training you can get, send emails to people of interest network and ask for support from things like sponsorship. Also, do your research.
Bealies wheelchair joggers cost £65.95 and are available in a choice of three colours – navy blue, black or grey – and a range of sizes from extra small to extra large. Plus, you can choose from two leg lengths – regular  32″ or long 34″.
Interview by Emma Purcell 
More on Disability Horizons…