Gifts for Disabled Dads
Father's Day is just around the corner, but finding the perfect gift for any dad can be challenging! Maybe your dad is disabled or has age creeping up on him and is finding some things a bit more of a struggle.  That's why we've compiled a list of unique and practical gifts that will make any father's life easier and more enjoyable, not just on Father's Day, but all year round!
And all our Dads love a gadget!
TL:DR In a hurry? Our top 3 picks:

Under £20 Harris Tweed Keyring and Gold Standard RADAR key

£20-£30 Knork Steak Knives

£50 Trabasack Curve wheelchair bag and tray
Clothing and Footwear
Let's start with footwear.
Ok, you could buy slippers but why not go one better and buy him an awesome pair of shoes!
Comfortable shoes are essential for anyone, but especially for someone who has a disability. Shoes with good arch support and cushioning can relieve pressure on the feet while also providing stability during walking. Look out for shoes with features like non-slip soles, adjustable straps, and breathable materials.
The Excursion Mid Top Men's Brown Disability Footwear is a perfect gift for dads with mobility issues who may find it difficult to find comfortable and supportive shoes. These shoes provide excellent grip and are easy to put on and take off.
The Excursion Mid-Top Men's Brown Disability Footwear from Friendly Shoes is a perfect gift for a disabled dad due to its thoughtful design and functionality. These shoes are crafted from suede leather and breathable fabrics, providing both style and comfort. They feature a large opening at the back with a discreet zip, allowing for easy slipping on and off, which is particularly beneficial for those with mobility issues. The shoes also have a wide and expanding toe space to accommodate wide and swollen feet or orthotics and AFOs. The cushioned midsole, interior padding, and removable memory foam insole offer additional comfort and support. Moreover, these shoes are incredibly lightweight, weighing just under 300g for a size 9, reducing the strain on the wearer. The Friendly Shoes range is designed with the needs of disabled people in mind, making them a great solution for those seeking supportive and accessible footwear.
Adaptive Clothing Gifts for Disabled Dads
At Disability Horizons Shop we have a growing range of stylish adaptive clothing for everyone. Let's take a look at some items that may suit your father: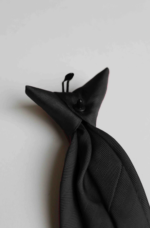 If your Dad now finds ties a bit of a faff, the Calvin Adaptive Clip-On Tie is a great option. It clips on easily and looks great with any outfit. Another practical clothing option is the Men's Hugo Classic Fit Non-Iron Velcro Fastening Shirt, which is stylish and easy to open and close, making dressing and undressing a breeze.
Maybe your dad has an all-time favourite shirt but is now struggling with the buttons due to age or arthritis or similar impairments? A very thoughtful gift would be the Magnetic Buttons that are no-sew and clip over existing shirt buttons.
What are Magnetic No-Sew Buttons?
The Buttons 2 Button Adaptive No-Sew Magnetic Buttons are an excellent gift for a disabled dad, especially for those with dexterity issues or physical disabilities. These magnetic buttons can be easily fitted to almost any shirt whether formal or a Hawaiian favourite! Transforming traditional buttons into a magnetic closing system. This innovative design removes the stress and difficulty of closing buttons, allowing for effortless dressing and undressing. The buttons can be machine washed and reused on other garments, making them a versatile and practical addition to any wardrobe. They are quick and simple to install, broadening clothing and style options. Each set contains nine adaptors, accommodating the average number of buttons on a shirt. (It's important to note that these buttons are not suitable for those with pacemakers, implanted defibrillators, children, or those with learning difficulties due to potential hazards. However, for the right person, they lrely help with dignity in dressing.)
Kitchen Gadgets for Dads
Maybe your dad was always the one to go to for the strength to open jars and bottles, let him keep his place as "King of the Jar Openers" with a gadget!
The Progressive 6-in-1 Multi-Opener Ultimate Kitchen Opening Aid can be his new tool of choice. This gadget makes opening cans, bottles, jars, and more a breeze and is an ideal addition to any kitchen. Pair it up with a Tenura Twister jar opener and there will be nothing he can't open.
The Peta Easi-Grip Carving Knife is perfect for dads who struggle with a traditional carving knife Its unique design allows for greater control and precision, making meal prep easier and less stressful. Additionally, the Knork Steak Knives are the best adaptive steak knives!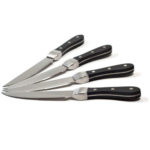 Why are Knork Steak Knives the best adaptive steak knives?
Ergonomic Design: Knork Steak Knives feature an ergonomic design that ensures a comfortable grip, making them ideal for individuals with limited hand dexterity or strength. The handle is carefully crafted to fit the natural contours of the hand, allowing for a secure and stable grip. This design feature significantly reduces strain and fatigue, enabling disabled dads to effortlessly enjoy their meals.
High-Quality Construction: Knork Steak Knives are crafted from high-quality stainless steel, ensuring durability and long-lasting performance. The sharp, serrated blade effortlessly cuts through steak, poultry, and other meats, while the sturdy construction ensures that the knife is reliable over time. Disabled dads can enjoy their favourite meals without worrying about the knives dulling or losing their effectiveness. They are SHARP!
Versatility: These knives are not limited to steak alone. Their versatile design makes them suitable for a wide range of culinary experiences, including barbecues, family dinners, and special occasions. Whether it's slicing through a thick piece of meat or delicately cutting vegetables, Knork Steak Knives offer the adaptability and precision necessary for various dining needs.
Inclusive and Stylish: Knork Steak Knives are designed with inclusivity in mind. They combine functionality with a sleek and modern aesthetic, making them a stylish addition to any table setting. Disabled dads can enjoy the convenience and accessibility provided by these knives without compromising on style or elegance They are non-stigmatising and look so cool!
At home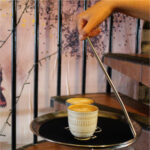 If your dad needs help carrying items, the Topple Tray Single-Handed Serving Tray is an excellent choice. The tray can be held with one hand, allowing dads to carry items without the fear of spills or accidents, open doors or hold onto rails. They are a brand new stylish stainless steel design and will last a lifetime. The Folding Travel Disability Grabber Stick is another great gift option for dads who need a little help picking up items that are out of reach. It is compact and lightweight, making it easy to take on the go.
For dads who use a wheelchair, the Curve Wheelchair Lap Tray and Bag is an excellent choice. This tray fits perfectly on a wheelchair and can be used to hold a drink, food, or other items. Additionally, the Trabasack is a versatile accessory that provides a flat surface for various activities like meal times, gardening, DIY jobs or even a pint in the local pub garden, where the tables are out of reach.
If he is a big reader, consider the Osalis Home Reading Magnifier with Stand as a great gift option. With a 4x magnification level and a sturdy stand, this magnifier is perfect for reading books, newspapers, and other materials.
The Cat Tongue Grip Tape is an innovative non-abrasive grip tape from the USA, that can aid grip on virtually anything. It is perfect for DIY jobs, gardening, or any other activity that requires a stronger grip.
Why every Dad needs non-abrasive Grip Tape:
Grip tape can hugely improve the functionality and accessibility of a variety of tools for a disabled dad, whether he's gardening or working on DIY projects. Here are some suggestions:
Garden Tools: Attach grip tape to the handles of spades, trowels, pruning shears, rakes, or any other gardening tools. This provides an enhanced grip and control, reducing the likelihood of the tool slipping out of hand.
Power Tools: Add grip tape to the handles of drills, sanders, saws, etc. It can improve grip, especially when these tools vibrate during use.
Wheelbarrow Handles: Grip tape can make pushing a wheelbarrow safer and more comfortable, by preventing slips, especially in wet conditions.
Watering Hose: If managing the hose is difficult, wrapping the grip area with this tape can make it much easier to control.
Ladders: If ladder use is safe and appropriate, apply grip tape to the rungs of the ladder to prevent slippage when climbing.
Workbench Surface: Add some grip tape to the workbench surface to prevent items from sliding around while working on them.
Hammer Handles: The handle of a hammer can benefit from grip tape to prevent it from slipping out during use.
Screwdriver Handles: Like other hand tools, the handles of screwdrivers can be covered with grip tape to provide better control.
Garden Furniture: If the dad enjoys sitting and gardening, grip tape can be added to chair arms and surfaces to prevent slipping and give better traction and support while rising out of a chair.
Toolbox Handles: The handle of a toolbox or other portable storage can be wrapped in grip tape, making it easier to transport.
Before applying the grip tape, ensure that the surfaces are clean and dry for maximum adhesion. And always consider the user's comfort and the functionality of the tool — the grip tape should enhance the usability of the tool, not hinder it.
Why Non-abrasive Grip Tape?
Comfort: Abrasive grip tape can be rough on the hands, causing discomfort, especially with prolonged use. Non-abrasive grip tape ensures that you can hold onto the tools for extended periods without causing irritation or discomfort.
Prevents Skin Damage: Over time, abrasive tapes can cause calluses, blisters, or even cuts. This can be particularly problematic for individuals with sensitive skin, reduced sensation, or conditions like diabetes where skin damage and subsequent healing are significant concerns.
No Damage to Materials: Non-abrasive grip tapes won't scratch or damage other surfaces they come into contact with. This is particularly important if you're using tools around surfaces that are easily scratched or damaged, like glass, polished wood, or painted surfaces.
Preservation of Tools: Abrasive tapes can wear down the handles of tools over time. A non-abrasive alternative provides the benefits of increased grip without damaging the underlying material of the tool's handle.
Compatible with Gloves: Non-abrasive tapes work well with gloves, providing enhanced grip without causing premature wear and tear on the gloves. Abrasive tapes can degrade the material of gloves over time.
Enhanced Grip Without Compromise: A non-abrasive grip tape can still provide the enhanced grip and slip resistance you need without the downsides associated with abrasiveness.
Non-abrasive grip tape like "Cat Tongue" offers a great solution for improving the grip on tools and other equipment without the negative aspects of discomfort or damage linked with abrasive options. This makes it an excellent choice for individuals with disabilities or anyone needing a more secure grip on their tools, especially during prolonged use.
Gifts For the Car
When it comes to car accessories, there are a few gifts that can be incredibly helpful. The Single Blue Badge Anti-Theft Device is an excellent gift for dads who use their Blue Badge to park the car. This device ensures that the parking badge is secure at all times, in areas where Blue Badge theft is a problem it can be a real deterrent to thieves and prevent the cost and inconvenience of a broken windscreen or lost blue badge. Another practical item is the Handmade Fabric Blue Badge Cover, which adds style and helps your dad easily take his badge with him after parking.
Keys and Keyrings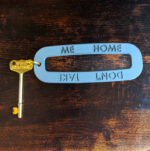 In addition to the practical aids, there are other thoughtful gifts to consider. For dads who frequently misplace their keys, the Don't Take Me Home Extra Large Key Fob is an excellent choice. This key fob is large and has a bright colour, making it easy to spot in a hurry. The Keywing Key Turner Aid is another great tool to help your dad easily turn keys with less effort.
For the ultimate in style and function, why not get him a "Gold" standard RADAR key with Harris Tweed Keyfob, the champagne of fabrics!
Affordability and Impairment Guide for Gifts for Disabled Fathers
Fathers are priceless but we all have a budget to work to… Here is a table of the gifts above with a suggested impairment that these gifts may help.
Remember every UK order over £35 qualifies for free shipping!
In conclusion, there are plenty of practical and enjoyable gifts available for disabled dads or fathers who are getting a little older. Whether it's for Father's Day or any other occasion, these thoughtful and useful gifts are sure to bring a smile to your dad's face and he will know he is loved.
Useful links: Organisations that support disabled parents
More on Disability Horizons Shop

"