Looking for that perfect and stylish gift for your disabled friend or loved one this festive season? Check out these 10 luxurious and original accessible gifts for Christmas available on the Disability Horizons Shop…
Don't forget to also read our first article on fun and practical Christmas gifts for more ideas.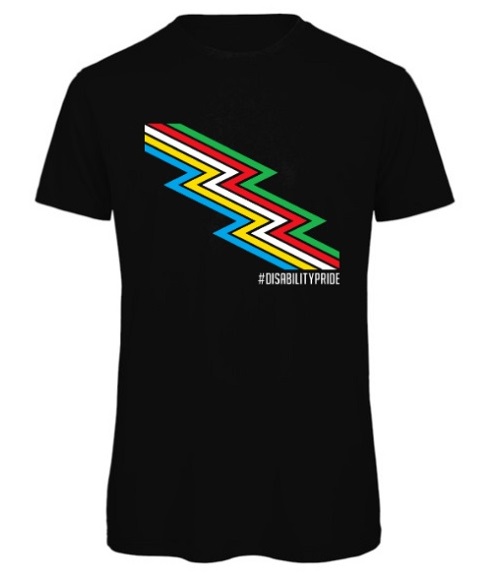 These creative, quirky and stylish T-shirts – designed by the Disability Horizons team – are a great Christmas gift for a friend or loved one who wants to fight for and celebrate disability equality and inclusion, or simply raise a wry smile.
The luxury T-shirts are 100% organic cotton, come in a range of colours and slogans and are made to order. Slogans include:
Social distancing veteran
Disability Pride
Perfectly Imperfect
Nothing about us without us
Not Your Inspiration
End Ableism
Inclusion not Injustice
To see the full range of T-shirts, go to our exclusive Disability Horizons T-shirt store.
Hands of Warriors' range of unique wheelchair gloves were created by life-long wheelchair user Carina Fordham.
Crafted from Ethiopian Hair Sheep leather, the range of gloves are incredibly durable and offer the ultimate protection for wheelchair users – preventing chaffing, hand-sores, blisters and calluses.
The soft, downy interior of the wheelchair gloves provides a cosy touch of luxury, whilst ensuring your hands keep snug and warm.
The Hands of Warriors gloves come with a gift-wrapping service for only £2 extra – making them the ideal gift for Christmas.
To view the styles and sizes of the Hands of Warriors wheelchair gloves and read our Hands of Warriors product review, visit the Disability Horizons Shop.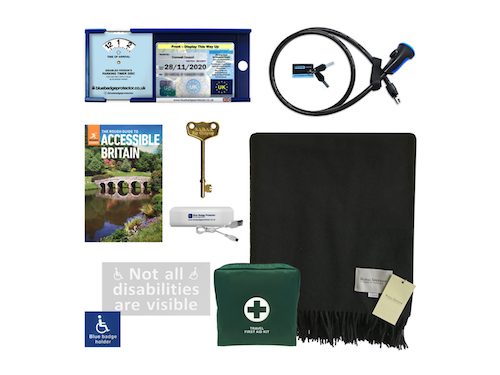 Designed to promote accessible, safe and stylish travel, this disabled driver's accessory set makes the perfect gift for a loved one or friend this Christmas.
This set includes:
a double Blue Badge anti-theft device
royal Speyside 100% woollen blanket
portable power charger
the Rough Guide to Accessible Britain book
travel first aid kit
accessible 'NKS/Radar' toilet key
two Blue Badge driver stickers
Find out more about exactly what's included in the disabled driver's accessory set. Also, check out product reviews of the Blue Badge anti-theft device on our blog.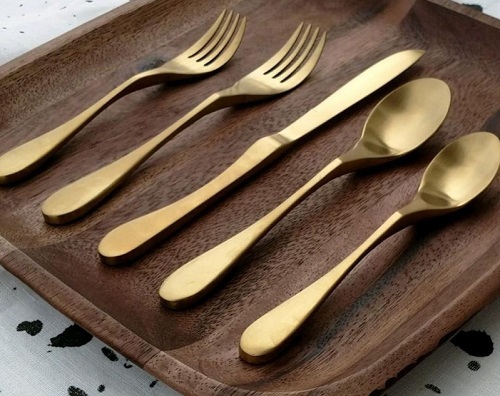 The Knork is a unique and innovative fork that features bevelled edge along one side, which allows you to use it as a knife.
The Knork is ideal for those who only have one hand available for eating, and totally removes the need for two pieces of cutlery when dining. Plus, because the bevelled edge is not sharp, it safe to use by anyone with limited dexterity and children.
This five-piece stainless steel cutlery set includes an original Knork, smaller salad Knork, knife, dessert spoon and teaspoon. You can also buy a 20-piece set, exclusive to Disability Horizons in the UK.
The set is also available in a range of elegant, stylish finishes, perfect for your Christmas table:
Classic stainless steel
Antique copper
Matt black
Visit the shop to purchase the Knork knife and fork in one – 5 piece cutlery set, 20-piece cutlery set and browse the other Knork dining sets. Also, check out our product review of the Knork 5-piece cutlery set.
The Ramble Tag guidance aid is designed to be worn on the upper arm of a guide to increase independence for visually impaired people.
It was designed by two neighbours, Tom and Laura, who wanted a guiding aid that can be used in a variety of settings, such as outdoor walks, running, using public transport or attending social events.
So, rather than holding the guide's elbow, wrist or hand, the visually impaired person can hold a handle attached to the Ramble Tag that is strapped comfortable to the guide's upper arm.
The Ramble Tag comes in four types and colours to fit your style and accessibility needs.
This is the perfect alternative solution for guiding visually impaired people and a great stylish and practical gift for Christmas.
Visit our shop to see the different styles and colours of the Ramble Tag guidance aid, and read our exclusive interview with the co-creator Tom Forsyth.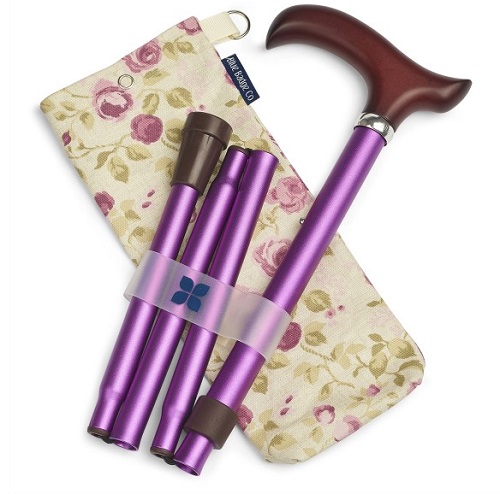 Treat your stylish relative or friend who uses a walking stick to this chic, folding model that can be packed away neatly in a bag.
It snaps open and folds neatly for easy storage. It's small enough to pack into a handbag or large pocket, and are ideal for dining out or travelling.
The neat little bag features a press-stud fastener to stop the stick from slipping out and a handy D-ring to hang from a coat hook or easily clip onto a handbag or wheelchair.
No need to adjust the stick height before folding away, and it's quick and easy to reassemble.
Made from high quality, lightweight aluminium with rubber, non-slip ferrule and a Canadian maple wood handle.
It's also available in a wide range of quirky British patterns and pretty floral classics, so you can choose a print to really reflect your loved one's personality perfectly!
Visit the Disability Horizons Shop to see the different styles and colours this folding walking stick comes in. 
Nimble is a compact and simple cutting device that has been designed with safety and ease-of-use in mind. The Nimble fits onto the end of the fingertip, much in the same way you would use a thimble.
The Nimble is a sharp yet safe choice for everyone and a new option for anyone who struggles with scissors or knives.
Perfect for opening food packaging and delivery tape on boxes, to scoring and slicing through paper for craft purposes, wrapping gifts or opening letters – a useful stocking filler for Christmas.
Go to the shop to find out more about the Nimble one-finger cutter and also check out a video product review on our blog. 
Greeper shoelaces are a unique style of shoelaces that remain constantly tied no matter what conditions they're put under.
The ease of use and simplicity of these laces means that the need to bend and struggle with fastening shoelaces is completely removed.
This makes them ideal for those with painful physical conditions, those with disabilities and people who struggle with dexterity and motor skills.
The Thomas the Tank Engine edition of the Greeper laces features a fun Thomas motif that will really appeal to children.
The innovative stay-tied functionality is ideal for children with autism or additional needs, who need a little extra help with keeping their laces safely tied.
Treat your child this Christmas with the Greeper Thomas the Tank Engine shoelaces by visiting the Disability Horizons Shop.
If you're not sure what to buy your friends or loved ones this Christmas but they'd benefit from our range of stylish, practical and accessible gifts and products, then you can treat them to a Disability Horizons Shop e-gift card.
You can purchase a £5 or £10 gift card or multiples of them. You can also choose from a range of designs.
The recipient will be sent a code to use at the checkout and it doesn't have to be used all at once – the gift cards can be spent on 250 different products and are valid for a year.
To purchase an e-gift card, go to the Disability Horizons Shop.
Our collection of homemade Christmas cards have been created by people who are disabled themselves, have a long-term health condition or a connection to disability. We've got a range available…
Visit our shop to view the full collection of Homemade Christmas cards.
Disability Horizons Shop
All of the accessible gifts and products on the list can be bought using credit or debit cards or through PayPal. A lot of the items we sell are also eligible for VAT exemptions if you or the person you're buying for applies.
Last posting dates for different companies featured on our site may differ, so please check to avoid disappointment.
If you would like to purchase any of these accessible Christmas gifts, or would simply like to browse the rest of our product selection, visit the Disability Horizons Shop.
By Disability Horizons
More on Disability Horizons…
The post 10 luxurious and original accessible Christmas gifts and ideas appeared first on Disability Horizons.