Wheelchair user Carina Fordham has Spina Bifida and chronic fatigue syndrome. After years of struggling to be diagnosed, making difficult career choices and studying whilst being ill, she set up her own business selling luxury wheelchair gloves – a product she knew was needed by other wheelchair users.
---
Head to the Disability Horizons Shop to buy Carina's Hands of Warriors luxury wheelchair gloves.
---
Please tell Disability Horizons readers a bit about you, your background and your disability.
I was born with Spina Bifida and had multiple operations and procedures during my childhood.
The process of getting a wheelchair from the NHS was painfully slow, so although I was born paraplegic and have never been able to stand or weight bear, I didn't get my first wheelchair until I was 7 years old.
This meant I spent many years being carried around or put in a child's pushchair.
Despite this, my parents encouraged me to lead a mainstream life, so from an early age, I was very independent and didn't really see myself as disabled.
This was until I went to school, where, unfortunately, I didn't have good experiences. At the time, the Disability Discrimination Act had only just been put in place, so not only were the schools inaccessible, the staff rarely considered reasonable adjustments. I was also struggling with increasing illness.
One of the worst was when, at the age of 10, I moved to a new school in Essex after my family relocated from where I had been bought up in the midlands. I was suddenly the new girl, but also the only disabled person and wheelchair user – I was always the only one, the guinea pig.
With the inaccessibility and misunderstanding from teachers on top of this, I felt very ostracised and found it hard to make friends.
You studied psychology and had ambitions to become a psychologist. What inspired you to go down that path?
I knew I needed to work in a field where there was not much of a physical aspect to the job. But it was also important to me that I was financially independent and comfortable, especially knowing that as I grow older I might only be able to work part-time.
I also didn't want to settle – I wanted to aim high. As a psychologist, there are a range of options and opportunities available, and a good salary to match.
Added to that, I wanted a career that would enable me to help people. My life has had many challenges, and that has given me a different perspective. I can empathise with people better and understand how difficult times can get.
You weren't diagnosed as having chronic fatigue syndrome for some time. Tell us more about what symptoms you experienced and how you were finally diagnosed.
I think I developed chronic fatigue syndrome (CFS), also called ME, when I was a teenager, but I wasn't diagnosed until I was 24.
I seemed to suddenly have lots of allergies. I was really sensitive to certain things, particularly food. It was almost as if when anything new was introduced to my body my immune system would act out and overcompensate.
Eventually, after a lot of persuasions, I had blood tests. These confirmed that I had severe allergies to nuts and latex to a point where I could go into anaphylactic shock, and lots of other allergies on a lower scale.
This was the start of getting answers as the doctors could see and measure something. But the focus was just on that for some time, adjusting my diet to make me better. It certainly helped, but it wasn't the end of the story.
I was also getting really breathless and had a fast heart rate, even form doing very little, comparatively speaking. But, again, it took a long time for this to be taken seriously. There were a variety of symptoms and so a range of things I was diagnosed with and in a piecemeal fashion.
At secondary school, I had to do a lot more activity than others to even get into the school as I had to go around the outside of the building. I would get into class and be exhausted to point of collapsing.
As I was concerned about becoming unwell, teachers and staff put it all down to anxiety and mental health.
It also didn't help that with Spina Bifida you get more tired than usual. Plus, as a disabled person, I have to use more energy to do things anyway. For example, when getting dressed, my legs don't help me out with the process, so it's tiring just putting clothes on.
Everyone, therefore, thought it might simply be my disability. But I was always puzzled by how very exhausted I was – it didn't seem right or 'normal' for me.
Finally, I meet a work colleague with CFS/ME who was having the exact same set of symptoms as me. So a consultant at my local Chronic Fatigue Service agreed to assess me.
Although the diagnosis of CFS/ME was not a good thing, I felt somewhat exonerated by all the years I had been struggling when I felt I had no right to complain. 
After completing your degree in psychology, you tried a couple of jobs whilst studying for a post-graduate degree. How did you come to these and what were your experiences?
When first graduated, I worked at my step dad's secondary school for nine months – but I sadly hated it. Using my psychology knowledge, I was working with kids who were about to be expelled, trying to find out what was going on and helping them to change their behaviour.
But, as has been my experience throughout my school years, there wasn't enough support in place for me to do my job effectively. It ground me down, so I ended up leaving without another position lined up.
I didn't want to just do nothing though, so I started volunteering at the local Essex Collation of Disabled People (ECDP). Whilst there, a position came up in the insight team, and they offered me the role.
I really enjoyed my time there. It wasn't a job I had considered doing – I was still studying for a post-grad in psychology at the time – but it too involved helping people.
There were nine of us in the team and most of us were disabled. Our focus was on helping disabled people in the community by running various projects we had funding for.
It also inspired me to switch to doing a post-grad in disability studies. I'd had to stop my psychology one because I couldn't find anywhere local and accessible to do my required placement. So this felt like the right new career path for me.
Sadly, ECDP rebranded and the whole department was shut down, making my role obsolete.
What made you decide to start your own business and become your own boss?

Just before my role at ECDP finished, I got pneumonia. It took me a long time to get over and I'd not long been diagnosed with CFS/ME, so I wasn't in a great place. I certainly didn't have the energy to look for another job.
Around the same time, I was offered an accessible home by the local housing association, which meant I didn't have as much pressure on me to earn a lot. So, I decided to take a break, look after myself and figure out what I wanted.
After doing this for a few years, where I didn't have to work to anyone else's schedule or demands, my health started to stabilise.
Then, in 2018, my grandad died unexpectedly. It was the first time I had experienced death, and it changed something inside me.
I remember sitting by his side in the hospital and wondering what hopes and dreams he had that he would never be able to achieve. It inspired me to grab life by the horns and do everything I want to before I die.
I first decided to travel around Canada for three weeks with my PA in an accessible car. It was something I had always wanted to do but never been brave enough to.
When I got back, I didn't actively decide to start my own business, it just evolved. I had been thinking for a while about wheelchair gloves and how rubbish they are. I initially looked at other options for me, but couldn't find anything right.
So, having found a factory that could make what I wanted, I decided to get 50 and see whether other people would like them too. It essentially came from being brave enough to give it a go.
With all of my experiences in education and work – and being able to build my own routine – I also knew that being my own boss would work well for me. It means I work at my own pace and within my own parameters.
Tell us about your business, Hands of Warriors, and the products you sell.
I co-designed the gloves with the manufacturer I found. They had expert knowledge of leather and could advise me on the best material to use for wheelchair gloves, seeing as they needed to be so durable.
One of the biggest selling points and differences with our gloves is that they have a luxurious feel. The leather is incredibly soft and the inside feels like fur.
I was so pleased when saw blogger Zec's review of our wheelchair gloves for Disability Horizons as he picked up on all the things I want people to notice.
The feel of the gloves is something that I can't get across online, so it's great to hear someone's experiences. I'm also pleased he's going to test them again in a month's time to put the durability to the test.
Currently, Hands of Warriors Ltd offers gloves for both men and women, and altogether we have 19 designs.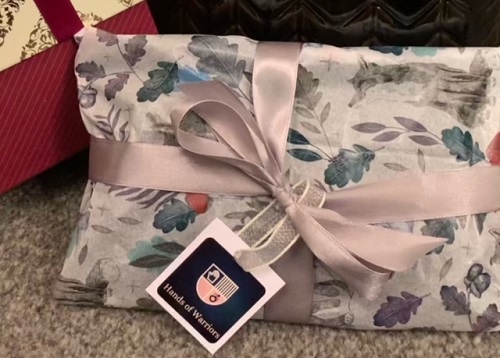 What challenges did you face when you started your business, and how do you find running it as a disabled person, especially when it comes to balancing your energy levels?
I went into this with barely any knowledge or experience in business. I have taken every opportunity I can to attend seminars, which has really helped. It's definitely been a learning curve where I have dealt with things as they have come up.
One challenge I face is the frustration of knowing that there is only so much I can do with the energy and body I have, so I have had to learn to manage my expectations.
I know that there is a lot more I could do with Hands of Warriors to grow it, but I have to work within my own limits.
I do have a couple of PAs who help me though. One does a lot of my admin for the shop and writes emails for me – I find writing and coming up with the right words particularly tiring.
I also recently hired an additional PA to help with doing social media on an ad hoc basis – it too is very tiring having to constantly monitor it and come up with new posts. But I still have to be quite self-disciplined and not overdo it.
Despite this, I love working for self and couldn't recommend it highly enough.
As many know, it is very hard to get a job as a disabled person, and I always felt a level of inadequacy as I wasn't working. The way to take control of this, my health and my confidence was to create my own boundaries and work to my own needs.
Do you have any plans for your business in the future and where it might go next?
I hope to be in a position where I can commission some new wheelchair glove designs next year. I have been encouraged by some recent very positive and complimentary reviews of my gloves and hope that my order book keeps growing.
What 5 tips would you give other disabled people who want to start their own business?
Contact your local business hub – it can give information, advice and guidance.
Make use of any free seminars and workshops – I've taken lots over the years.
Don't be afraid to go with your ideas. If it doesn't work out, it doesn't matter.
If you are on ESA, don't let that be a hurdle. You can take advantage of 'permitted work' even if you are in the support group.
Use your unique perspective to find a gap in the market.
By Carina Fordham
Buy Carina's Hands of Warriors wheelchair gloves and the Disability Horizons Shop, and read blogger Zec's review of the wheelchair gloves.
More on Disability Horizons…
The post How disabled entrepreneur Carina used her experiences to build her own business appeared first on Disability Horizons.