Zec Richardson, a blogger and reviewer at Satonmybutt, will be taking a closer look at some of our products as part of our in-house team. Today, Zec is talking about the Knork Steak Knives.
I have used the Knork Cutlery set for a long time now, and I am a big fan of the brand. Having tried the Knork Steak Knives for the first time, they didn't fail to disappoint and they have proved to be equally as useful.
The Steak Knives are a fantastic kitchen aid, perfect for people with dexterity issues and conditions that cause issues with using cutlery!
They are made from 100% forged stainless steel with Polyoxymethylene (POM) handles, which are joined using three rivets.
And wow, the point is super sharp! Also, the front edge is serrated and the rest is sharpened so much that feels like I am wielding the Samurai version of a steak knife.
They are like the Knork Cutlery set, beautifully weighted and a joy to hold. The knife is balanced perfectly, which makes holding and using the Knork Steak Knife very easy.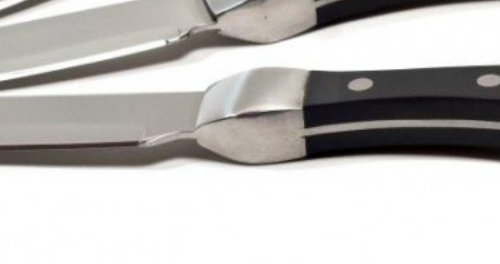 Where the handle meets the blade, there is a wide flared platform, which makes the knife easier to hold. To me, this is a genius addition to the design, as it gives your finger a ledge to sit on rather than on the edge of the blade.
The Knork Steak Knives can easily cut through steak or chops with no problem. They can even cut vegetables with ease. You could eat leather with these knives!
The POM handles are a durable synthetic material which is moisture and heat-resistant – making the knives suitable for the dishwasher.
Packaged as a set of four Steak Knives, they are the perfect addition to your cutlery draw and would even make a great gift.
Knork Steak Knives video review
By Zec Richardson
For a complete guide to our knork products click here
If you have enjoyed this review, check out Zec's YouTube Channel and his website Satonmybutt. You can also find him on Facebook, Twitter and Instagram.