Having opened at the beginning of 2020, our Disability Horizons Shop sells a range of mobility aids, accessible gadgets and luxurious gifts. But as we head into 2021, we've seen how practical, life-changing products are essential too.
Now, alongside our stylish and fun products, we have a range of essential disability living aids. They may not be as glossy or Instagramable, but we know that they will make a big difference to your life.
Did you know that the entire Disability Horizons team – on the magazine and shop – are disabled, have a long-term health condition or a close family member with a disability?
So, with our first-hand, real-life experience, we have sourced a collection of essential disability living aids that can make day-to-day tasks, such as dressing, washing, exercising and cooking, easier for people with a range of disabilities.
These include mobility and portable aids, kitchen aids and bathroom and grooming aids – and at affordable prices too.
Although they may not be the most stylish or beautiful products, they are all incredibly useful and can even be life-changing.
Most importantly, they can give independence to someone with mobility difficulties, dexterity issues, sight loss and other physical impairments. That is priceless.
We have more than 20 essential disability living aids available on the Disability Horizons Shop. Here we highlight six of the products that are inexpensive but that can make a big difference to your life:
This deluxe hand exerciser is the perfect tool if you have limited hand dexterity, helping you to exercise and strengthen your hand, giving you more independence.
Simply attach rubber bands to the different levels to pick the desired resistance and start your exercises. Plus, because it's lightweight you can use it anywhere – at home or when out and about.
If you're keen to do more exercise in 2021 and gain more hand strength, then this deluxe hand exerciser could be the device for you.
Head to the Disability Horizons Shop to find out more about the deluxe hand exerciser. If you're looking to get fitter in 2021, you might also be interested in our pedal exerciser.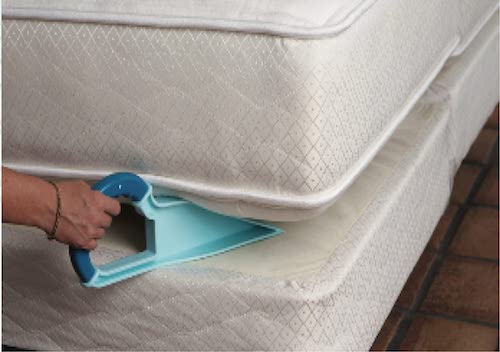 This mattress lifter is a unique mobility aid that helps to make bed-making easier and protects your back and avoid the stress of lifting heavy mattresses.
With an angled, ergonomic design it effortlessly lifts the mattress as the device is inserted between the mattress and base.
The mattress is then held safely in an elevated position on the ledge giving ample room to tuck in sheets, blankets and other bedding.
Being both light and easy to use, it will allow you to take control and make your own bed with ease.
Check out the Mattress lifter on the Disability Horizons Shop – currently on sale at nearly half price.
If you have limited mobility, this inflatable shower basin means you can have your hair washed from the comfort of your own bed – ideal if you're needing to get bed rest but want to stay clean and fresh.
It inflates with ease thanks to two split-air chambers. It offers good support for your head and shoulders to ensure it's comfortable and doesn't put any stress or strain on you.
Buy the in inflatable shower basin on the Disability Horizons Shop now.
Our 3 -door key turner allows anyone with limited dexterity, the strength or issues with fine motor skills to turn keys in locks easily.
The easy-to-grip handle provides extra leverage. The lightweight, compact design securely stores three keys, which fold away neatly when not in use.
This practical gadget provides great independence, allowing you to lock and unlock your doors without assistance. Plus, it gives you the security and peace of mind that your home is always safe.
To purchase the door key turner, go to the Disability Horizons Shop.
This long-handled brush makes brushing your hair a breeze. It is ideal if you can't raise your arms, are one-handed or have shoulder pain.
It means you no longer have to twist and stretch to reach and brush all sides of your head.
Plus, the non-slip, easy-grip handle means it remains secure and steady in your hand at all time, ensuring a comfortable and dignified grooming experience.
View our shop to buy the long-handled hairbrush. We also have a long-handled comb for £7.99.
This clamp-style jar and a bottle opener hooks over table edges and work surfaces. Simply place the bottle or jar in the clamp and apply pressure to the arm using your hip or stomach.
This then holds the item in place firmly and securely, leaving your hands free to twist or unscrew lids.
Great kitchen aid for those who struggle with dexterity, or only have the use of one hand and eager to do more independent cooking or baking in 2021.
To find out more about the jar and bottle opener, visit the Disability Horizons Shop.
Essential disability living aids on the Disability Horizons Shop
Here is a full list of all the essential disability living aids available to purchase on the Disability Horizons Shop.
Mobility and portable aids
Kitchen aids
Bathroom and grooming aids
All of our essential disability living aids cost less than £25, and most are under £10.
Many are also eligible for VAT exemptions if you or the person you're buying for applies.
All products on the Disability Horizons Shop can be bought using credit or debit cards or through PayPal.
By Disability Horizons
More on Disability Horizons…
The post Essential disability living aids that will make a big difference to your life appeared first on Disability Horizons.